According to Donnie Collins, a.k.a. @swbyankeesTT on Twitter, Kevin Whelan will be called up from Triple-A Scranton to the Major League Club to help a very injury depleted Yankees bullpen. Here is some more information about Whelan: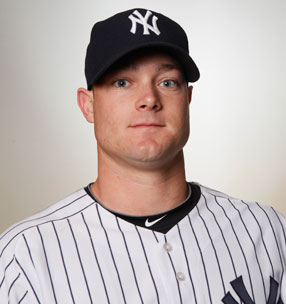 Whelan's journey has certainly been an interesting one. This Kerrville, Texas native is now 27 years old and spending his seventh season in the Minor Leagues. He was drafted in the fourth round of the 2005 draft by the Detroit Tigers. On November 10, 2006, he was acquired by the Yankees with Humberto Sanchez and Anthony Claggett for Gary Sheffield.
Whelan is a right-handed reliever that has thrived since joining the Yankees' farm system. This season in Scranton, he is their closer. He currently has 18 saves, with a 1-1 record and a 1.67 ERA in 25 games. He has struck out 30 and only walked six in 27 innings pitched. Those 18 saves lead the International League.
Whelan has been really terrific in his last seven appearances dating back to May 23rd. He has six saves, while not allowing a run in the last 7 1/3 innings pitched, only giving up four hits, while striking out 10 and not walking anyone over that span. Opposing hitters have a mere .183 batting average against him in 2011.
During his long career, he is 24-9 with a 3.18 ERA in 248 games. He has started eight games during his entire Minor League career all of which came in his first season after being acquired by the Yankees in 2007. He's 19-7 with 31 saves since joining the Yankees' organization.