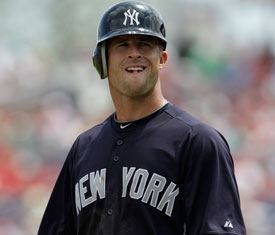 The curious case of Brett Gardner continues to be a head scratcher. What initially was supposed to be a 15-day stint on the disabled list, has now turned into months and months of guessing what is wrong with him.
After four at-bats yesterday in a simulated game, Gardner is sore today and had to be shut down once again.
"He came up a little sore today, so he's not playing today," Girardi said before Monday night's game. "We'll see how he feels tomorrow and we'll go from there."
This is something that continues to happen to Gardner and is quite puzzling.
"It's a concern because it's happened before," Girardi said. "Hopefully he can just get through this and he'll continue to play, but we'll have to wait and see."
Girardi went on to say, "The doctors have all come up with the same diagnosis, it is puzzling. We expected that he would get through this and our hope is that he'll still get through this, but today he was sore."
Our own Jack Curry reported that Gardner's agent Joe Bick said that Gardner told him, "If I would have had to take batting practice today, I couldn't have done it." Gardner also said through Bick according to Ken Davidoff of the Post, that Gardner is expected to have an MRI on Tuesday to see about what has been diagnosed right now as a strained right elbow.
The mystery continues and now it is just the waiting game to see if Brett Gardner will be back at any point this season.