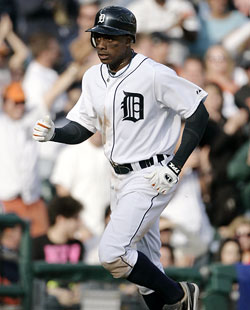 1. Many rumors have the Yankees, Tigers, and Diamondbacks discussing a three-way swap that would bring Curtis Granderson to the Bronx. Way to keep your eye on the main chance, Admiral Cashman. One rumor had the Yankees sending Ian Kennedy, Austin Jackson, Phil Coke and Michael Dunn away and getting back Granderson and prospects. The Tigers would have given up Edwin Jackson in the deal and received Max Scherzer from Arizona. Apparently the Tigers scuttled the deal, and you can't blame them—they'd be giving up two good players for one promising pitcher, albeit one who looks like a coming All-Star based on his work this year. As for the Yankees, the deal would have been a pure win, giving up three pitchers who aren't too important for a top center fielder. Had the deal gone through, Cashman might as well have flown home—he wouldn't have been able to top it any time soon.

2. The reward for Brian Bruney is the first overall pick of the Rule 5 draft. This means that every eligible, unprotected player in baseball is now prey to be picked off by Mssr. Cashman. Can you select your own players? I ask only because the Yankees were forced to expose a couple of interesting players, including the suddenly popular Colin Curtis (I remain convinced that Curtis-o-mania is a kind of mass delusion caused by swamp gas). This possibility aside, it seems more likely that the Yankees have a specific player from another organization in mind. Otherwise, there's no reason to jump to the head of the line. Whoever the Yankees take, they'd be forced to retain him on the 25-man roster all season or be obligated to offer him back to his original organization. Because of this stricture, it seems most likely the target would be a pitcher, probably a reliever; in this age of bloated pitching staffs, a reliever can be more easily hidden at the bottom of the bullpen, especially if we're talking about a specialist like a left spot reliever, than can a position player that you're not going to use all that often.

This whole deal is somewhat shocking—as I wrote yesterday in assessing Bruney's time in pinstripes, it's rare for Cashman to invest too much time in these kind of low-risk, high-return possibilities. Suddenly the Yankees are looking for bargains on the margin, and it's a very good thing—you can often get value without paying top dollar, and sometimes you even get more than you had bargained for.

3. The bad: the Yankees are rumored to be talking with Jason Marquis. My professional reaction: AAAGH! RUN! RUN FOR YOUR VERY LIVES! Marquis won 11 games in an uncharacteristically effective first half, but he's not a particularly special pitcher, one who walks too many and strikes out too few, and has been pretty hittable in his career. To his credit, he's upped his groundball rate in recent seasons, which has had the effect of shrinking what was once a crippling number of home runs allowed. Still, he's the epitome of the kind of NL career hurler who is likely to get mugged coming over to the DH league. The Yankees have to talk to everyone, and it pays to keep your eyes and ears open to any possibility, so no criticism to the Yankees for just having a chat, but yeesh, Kennedy would be far more likely to succeed than Marquis and be millions cheaper.

PUDGEMANIA
I'm going to guess that the Nationals signed 38-year-old catcher to a two-year deal, or any deal at all for that matter, because they felt like their youthful pitching staff needed "veteran leadership." It can't be because they thought Pudge would be an offensive plus—the old man hasn't hit in five years now. In 2004, Rodriguez put together one of his best seasons, hitting .334/.383/.510 for the Tigers. In 630 games since, he batted .278/.304/.418. That's below average even by the expectations of his position. It's probably better than what Wil Nieves would have delivered, but it's doubtful that a 39-year-old Rodriguez will be quite that good—he certainly wasn't this year. I suppose that the team isn't confident of Jesus Flores making a strong comeback after elbow and labrum surgery. Rodriguez can still throw, at least.

The Nats don't have a lot of great prospects, but among that select group they can number a catcher, Derek Norris. He hit .286/.413/.513 at Hagerstown this year. He could be about two years away; at least Pudge won't be in his way.

UPDATE: 10:34 p.m.
Jon Heyman tweets that the Yankees pulled out of a possible Granderson deal because they don't want to give up four prospects for one player. While I don't know what other fish the Yankees might fry if they spin those players off in separate deals, let's not get carried away by the idea of giving up volume for quality. Look at the four guys: Austin Jackson hit .300 with four homers at Triple-A this year. That translates to absolutely nothing you can use in the Major Leagues. Phil Coke gave up a ton of home runs, and lefty spot guys are a dime a dozen. I like Mike Dunn, but he's another lefty spot guy at best and is way too wild for the role right now—you'd bring him into face Carlos Pena and end up with him on first base and Evan Longoria at the plate. Ian Kennedy is also a pitcher I remain enthusiastic about, but his upside is as a back-of-the-rotation starter. I suppose he could be the Yankees' No. 5 guy this year; heck, if Sergio Mitre could be the Yankees' No. 5 for half a season, anyone can, possibly including you, your mom, and grandma, may she rest in peace. Still, the Yankees have or can acquire other options in all these instances, but don't have a clear path to a 30-homer center fielder without making a deal for Granderson.

Again, maybe these players are in enough demand that the Yankees could put half in a package for Roy Halladay and the other two in a deal for a left fielder like Josh Willingham and come away better off than had they just gone all in on Granderson. If that's the case, then the decision to back away is defensible, and the Yankees can always come back later if a better deal for the outfielder doesn't present itself to the Tigers. Conversely, they also risk coming away with nothing, retaining this pile of so-so players and having neither a Granderson nor a Halladay nor a left fielder. That, of course, is the inevitable nature of gambling, and I assume that Cashman, knowing his options better than we do, has a handle on the percentages each bob-and-weave he executes creates.