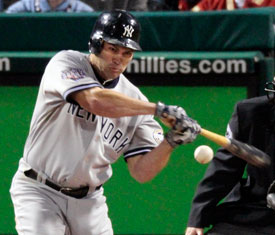 I'm a day behind here as the Baseball Prospectus annual has done its usual job of turning my world on its ear; since the end of the World Series, the day of the week hasn't mattered, the hour hasn't mattered, it's just book, book, and book some more, book around the clock. It's not just the complete collapse of my circadian rhythms that has me in a sour mood today, but the latest news surrounding the Yankees and their rivals.

• I remain convinced that the Yankees, in their eagerness to free up the designated hitter spot for a rotation, have made a mistake in pursuing Johnny Damon more avidly than they did Hideki Matsui. Matsui took the hit and got gone, reportedly signing a one-year deal with the Angels. Despite his fragility, Matsui has a skill set that is going to age better than Damon's; even if his batting average drops to .250, he's still going to hit home runs and take his walks, and he's going to do it in all the parks he plays in, not just Yankee Stadium II. You can feel confident that Damon will keep jerking flies down the right field line at home, but on the road he's going to be just another guy, as he was this year, and maybe less than that guy when age kicks in. Assuming that the Angels don't break Matsui by overindulging his desire to play in the outfield, I expect that when you adjust for parks, Matsui will have a better 2010 than the ex-caveman.

• Joel Sherman writes that the Yankees would be willing to cast Damon as their DH and play Melky Cabrera in left field. I realize that my status as Cabrera's biggest fan probably disqualifies me from giving an opinion year, but remember, as Sonny says in "The Godfather," it's not personal, it's business, and sticking this average-at-best non-switch-hitting switch-hitter in left is not good business. Over the last three years, the average AL left fielder has hit .270/.336/.433. Melky came as close as he ever has thanks to a hot first half, but he reverted to form after the break, hitting .264/.324/.393. The defensive benefits to be gained by placing Cabrera there might, just might, let the Yankees break even at the position, but you don't win pennants by breaking even, especially if you may also be downgrading at designated hitter as well, not to mention experiencing regression/decline at other positions. A team can, if it has any choice about it at all, never, ever take for granted that it can carry a position, because you just don't know if the rest of the lineup is going to live up to your projections. Last year, left fielders generated more offense than any position other than first base, so if you're going to forgo offense there, you had better make it up in a big way at other spots.

• And another thought: given the way Yankee Stadium played this year, it's crazy to give up on lefty power at any position, especially one like left field where it is easier to find hitters who can put a charge in the ball.

• The Yankees are trying to shrink payroll this year, but I remain enamored of a free agent that would solve some of this mess, albeit at the price of again clogging up the DH side of things. That would be highly breakable old friend Nick Johnson. Johnson's power has ebbed after his long years of inactivity, he can't run and his range has been reduced to...Oh, I was going to make a Joe Lieberman joke, but I just don't have the heart. Nick-the-DH would presumably be healthier, Yankee Stadium would re-inflate his power, and the Yankees would have the benefit of a .290 average and 100 walks at the position. Johnson was a Type B free agent, meaning he wouldn't cost the Yankees a draft choice, and he can't expect his salary to rank in the highest echelon.

• Boston's signing of John Lackey shows that the Red Sox are committed to going toe-to-toe with the Yankees for the division title, never mind you a wild card route to the playoffs. With a front four of Lackey, Josh Beckett, Jon Lester and Daisuke Matsuzaka, the Sox are set to win every day, and with Clay Buchholz and Tim Wakefield around, they have the depth to solve the inevitable injuries. Lackey's ERA will probably pop up closer to 4.00 with the change in venue and opponents (he'll see the Yankees 42 times this year, not the A's and M's, and Fenway is harder on pitchers than Angel Stadium), but that still beats the heck out of relying on Brad Penny or Paul Byrd. Some pundits are now grousing that the Sox aren't going to have enough offense, and we'll see if that's true, but those concerns seem overstated. The starting pitching should keep the Sox in most games, and a close win is still a win. Further, with the signing of Mike Cameron, a move which presumably pushes Jacoby Ellsbury to left field, they've improved their defense substantially, and they'll upgrade again whenever they finally consummate the Mike Lowell trade and sign Adrian Beltre. If you don't want to over-commit to Matt Holliday or Jason Bay, this is the smartest way to go.

• More on all of the Roy Halladay machinations when the deal is finalized. The Yankees-centric plus is that they don't have to see the guy anymore. The reverse is that the Jays seem to be getting a nice infusion of talent via the deal, the young players that their farm system just hasn't delivered. If they lose Halladay but their roster gets that much deeper, they could still be a better team. Kyle Drabek and Brett Wallace (he's coming from the A's in a subsequent trade, apparently) should help as soon as this season. I don't understand the part of the deal where the Phillies give Cliff Lee to the Mariners for prospects, because the deals aren't contingent upon each other and Halladay and Lee together would seem to instantly lock the Phillies into another pennant...But again, we'll wait and see what's actually happening.