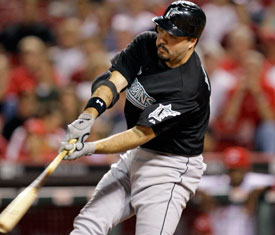 Rumors are about suggesting that the Yankees have come to terms with their former prospect Nick Johnson on a one-year contract. Having been suggesting this for awhile, I'm not going to revisit the advantages in any great detail except to say that it brings a reliable source of on-base percentage to the club. While Johnson's power won't match the departed Hideki Matsui's, especially outside of Yankee Stadium, he should reach base at a better clip. In other departments, like fielding and baserunning, they're essentially tied -— years of injuries have robbed Johnson of his ability to make the slick fielding play, score from second on a triple or get off the couch to answer the phone.

As with Matsui, Johnson is the rare lefty who hasn't many problems facing same-side pitchers. In fact, though he's hit for more power against right-handed pitchers, he's recorded a batter batting average against southpaws, .292 to .266. Johnson isn't the kind of lefty hitter who Joe Girardi will have to pull when the Orioles bring in Mike Gonzalez. They might want to pull him at other times -— if Brett Gardner isn't traded, he's going to be in the game every time Johnson reaches base from the seventh inning on. For reasons of maintaining Johnson's precarious health, Girardi might also consider skipping him in turf parks, in interleague games, Tuesdays -- pretty much the same things he did to keep Matsui's knees in operating condition this year.

If the reported figures involved in the Johnson signing are correct, the Yankees won't be saving more than a pittance (well, a pittance to them) over what Matsui signed for. However, it should be kept in mind what Matsui would have been willing to accept from the Yankees, both in terms of a percentage cut from his $13 million a year and in terms of length, were probably very different than what he was willing to take on the open market. From your current employer, that kind of offer is an insult. From a stranger, it's what the market will bear.

Many pundits will say that the Johnson signing puts an end to Johnny Damon in pinstripes, and maybe it does, maybe it doesn't. What I don't accept is that it makes Melky Cabrera the left fielder; even if Damon is gone, someone else is coming. Here's how I know: on a 162-game basis, Damon and Matsui were responsible for a total of 88 runs above the replacement level last year, which is about nine wins. Johnson and Cabrera were responsible for about 50 runs above replacement, which is about five wins. All things being equal, which is to say that Johnson, Cabrera and all the other Yankees do what they did last year, the Yankees will be down to 99 wins.

If you throw Curtis Granderson into the mix, the Yankees get closer to breaking even on offense. Give them some credit for Melky Cabrera playing a better left field than Damon (as per our discussion in yesterday's entry) and maybe they're even ahead. Yet we're still making some assumptions, key among them that old guys like Derek Jeter and Jorge Posada don't go backwards, that no one gets hurt, and that the pitching staff is as good as it was last year and doesn't need any extra pick-me-up from the batters.

That's why I think left field is going to be bolstered, perhaps not by Damon, perhaps not by a star (that may wait until Carl Crawford hits the market), but by someone with more hitting ability than Cabrera. Assumptions will win you pennants sometimes, but the Yankees aim to win them all the time.