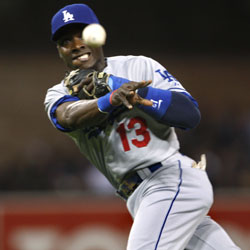 The breaks on Derek Jeter have been shown to be fully functional in independent testing and no recall is planned. However, authorities said they would need another week before they could clear Nick Johnson for use.

Wish I could say the same thing about myself … I'm on some new medication and it has been a struggle to stay awake. I recall a Robin Williams routine from 25 years ago or so when he played a small child who says, "I like to give mommy's medication to the goldfish and watch them swim sideways." That's what I feel like: a goldfish swimming sideways. Perhaps that should be a Goldman swimming sideways. That reminds me of the story of how the movie producer Samuel Goldwyn got his last name. His actual name was Samuel Goldfish (Americanized from Schmuel Gelbfisz), but around World War I he merged his movie operation with that of a couple of brothers named Selwyn. The name of the new studio would be a combination of each of their last names, the first half of Goldfish and the last half of Selwyn. There was really no other way to do it, as had they used the first half of Selwyn and the last half of Goldfish—you can see that there wouldn't be positive connotations. Goldfish then changed his own last name to match that of his company.

AS GOES ORLANDO HUDSON, SO GO THE TWINS
The AL Centeral took an interesting turn yesterday as the Twins inked Orlando Hudson to play second base. This might be the most obvious move since the Yankees bought Babe Ruth, and as such it is totally unexpected—for years, the Twins have been happy to go into battle with a replacement-level player or two in the lineup. Second base has been an almost continual problem since they dealt Chuck Knoblauch to the Yankees. You can point to the odd good moment from Todd Walker and Luis Castillo, but if you took all the good parts of Alexi Casilla and Luis Rivas and stitched them together you still wouldn't be able to make one good ballplayer.

This frequent Yankees postseason rival has now remade their middle infield, having added J.J. Hardy from the Brewers earlier in the offseason, and word is that they may get Joe Mauer signed to a contract extension sometime soon. They also added Jim Thome to their bench, which doesn't seem like an important move given that he's currently blocked, but it gives them some needed depth if Delmon Young gets off to a bad start. They can finally bench this failed prospect, put Jason Kubel in an outfield corner, and give Thome regular work at designated hitter.

The Twins still have no third baseman, a problem given that their 2009 hot corner men hit .247/.313/.385 last year. It's possible that prospect Danny Valencia could take the job in spring training, but it's also possible he could post a .290 on-base percentage in regular play. Still, if he can hit .265 and slug .420, the Twins will be ahead of where they were last year. Kudos to them for shaking off their habitual lethargy as they head into a new ballpark.

Speaking of Target Field, it's a bit odd that the Yankees won't get their first look at the new stadium until May 25. As one of baseball's biggest road draws, the Bombers often get first crack at these virgin edifices. Instead, the Cardinals will play a couple of exhibitions there and the Red Sox will be the opponent for the first official home game. This may be a blessing given the late spring in Minnesota. April night games could be pretty close to freezing, while day games will struggle to reach 60 degrees Fahrenheit on average. Sometime during the first month we're going to hear about some pitcher who shredded his shoulder because he couldn't get loosened up in the chill. Thanks to the schedule-makers, it will more likely be Daisuke Matsuzaka than Phil Hughes. The Red Sox drew the short straw, along with the Royals and Indians.