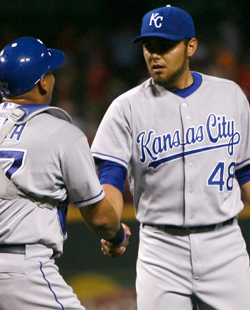 LET'S NOT MAKE A DEAL
Having been forced to the sidelines when the best pitcher on the trade market went to Texas, the Yankees were again outbid, at least in someone's perception, for the second-best. In a trade that has been almost universally panned by the cognoscenti (baseballscenti?), the Diamondbacks picked up Joe Saunders, a let-'em-hit-it lefty who will only be as good as his defense and his luck, as well as an undistinguished middle relief candidate, a 20-year-old lefty starter whose stuff suggests a future at the back of a rotation, and a player to be named -- widely assumed to be 2009 supplemental first-round pick Tyler Skaggs, a teenage lefty with a big curve ball. He's far enough away that what he turns out to be is anyone's guess, but his stuff is currently less than electric and anyone who says that he will someday be a No. 1 or 2 starter is indulging in an act of uninformed projection, blind faith, or team boosterism.

The Angels had better prospects than they gave away in this deal. They still possess catcher Hank Conger, who they don't seem to have much interest in for their own team despite a long DL stint for Jeff Mathis and the injury to Kendry Morales forcing Mike Napoli to first base. They have centerfielder Peter Bourjos, who may not hit all that much but has, according to Baseball America, "game-changing defensive ability." And they have New Jersey's Mike Trout, possibly the best player in the Minors this year. The 18-year-old centerfielder was recently promoted to the California League after hitting .362/.454/.526 with 45 steals in 81 games for Cedar Rapids. That's just the top three; it's hardly an exhaustive list. For a pitcher of Haren's quality, you'd think the Angels might have to dig a little deeper, but no.

For the Yankees, the question is, were they given the opportunity to top the Anaheim offer, and if so, why didn't they? As we discussed here a few times over the past month or so, a Haren trade would have served the Yankees in two ways, bolstering the rotation for the stretch run in 2010 and filling one of the empty spots that might arise for 2011, be it Andy Pettitte's or Javier Vazquez's. Ted Lilly doesn't offer nearly the same benefits. As I wrote the previous sentence, Ken Rosenthal tweeted that the Yankees "aren't on Lilly at this time," so perhaps they see it the same way -- which makes the lack of a push for Haren all the more perplexing. It's a problem that must be reckoned with, because even if Andy Pettitte comes back in a hurry and picks up exactly where he left off, this isn't necessarily a rotation built for the postseason.

It should be said that this same question, "Why didn't you top that shoddy offer?" could be asked of about 20 other organizations, not just the Yankees. Almost every team has a Joe Saunders. Almost every team, with the possible exception of the Diamondbacks, has a fistful of might-be-decent right-handed middle relievers. As for two lower Minor League left-handed pitchers who might someday staff out the back of a rotation, new versions of that prospect materialize in every draft, particularly if you're shopping in the "Less than 95 mph" aisle of Prospects 'R' Us.

As for the bullpen, it's not built for next Tuesday, let alone October. Mariano Rivera has done his usual fine job, but consider that he has pitched all of 36.2 innings. Sure, they were 36.2 important innings, but they represent just four percent of the total innings available to the team this year. Joba Chamberlain has pitched more innings, and David Robertson and Chan Ho Park aren't too far behind him. The great Mo is on a pace for 60 innings, which would be his lowest total since 2002, a season in which he made three trips to the DL. In protecting their 40-year-old Hall of Fame closer, the Yankees have minimized his impact and shifted innings onto the shoulders of pitchers who aren't half as capable. No wonder then that they "dangled" (according to Jayson Stark) Jesus Montero to the Royals for Joakim Soria, one of the best closers in baseball. Righties can't touch him, lefties don't do much better, and you would effectively have "shortened the game to seven innings," as they said of Rivera and John Wetteland back in 1996.

Soria is only 26, the same age Rivera was when he was doing all that shortening, and he's signed through 2011 with a series of options extending through 2014, so the Yankees would be getting some extended value out of the move, not to mention closer insurance for whenever Rivera wants or is forced to hang up his guns. The Royals apparently weren't interested, and while you would think they wouldn't mind turning their closer into 2.5 good players (or whatever the price is now that the Haren deal so devalued real talent), you can see why they wouldn't jump at Montero. They already have a Montero equivalent in Billy Butler, who, as the old saying goes, has gloves that never get old because they so rarely come in contact with the ball. With two of those players, you're forced to DH one and put one in the field, whereas the optimal usage pattern might be to take away the gloves from both. That being the case, given that the Yankees don't have any prospective non-pitchers who can be mentioned in the same breath as Montero, the dance reverts back to pitching, pitching, pitching, and one imagines the Yankees aren't too eager to part with a Hector Noesi or Manny Banuelos for a reliever, no matter how good. One, maybe. Two…

A COUPLE OF QUICK NOTES ON THE INDIANS
They're a different team than when the Yankees last saw them, maybe not a substantially better one, but a younger one with so many younger players in the lineup. On most nights, they have four players 25 or younger in the starting lineup, with a couple of others not much older than that. Travis Hafner aside, the oldest player in their lineup Sunday was Jayson Nix, and he's 27.

Some of them are starting to perform. Since coming back from the Minors, Matt LaPorta has hit .320/.386/.560 in 21 games, though a good deal of that was in his first week back; he's got an 11-game homerless streak going. Catcher Carlos Santana has been a bit cold of late, though he has been very patient, just as he was in the Minors. As a switch-hitter, he seemed to do more from the right side in the Minors, but the opposite has been the case so far in the bigs, with the kid hitting just .154 in 51 plate appearances against southpaws (take those numbers with a grain o' salt given the small sample). The Indians are also eagerly waiting for Trevor Crowe and Michael Brantley to justify their playing time. It might be a long wait in Crowe's case; he's going to be a fourth outfielder on a good team one day, but Brantley should hit eventually, despite averaging an almost-literally powerless .162 so far this year in enough plate appearances that it could legitimately bother you.