Before last Thursday, this column was going to look at the difficult, frustrating and decidedly failed offseason in which the New York Yankees and team general manager Brian Cashman had found themselves. This changed all of a sudden when the Yankees reached a crossing of a river that had been swiftly taking their 2011 season toward most unpretty and inhospitable places. Call the crossing Soriano Divide, because it's actually a branching of the current, a river fork.


What's interesting is that when all was said and done there at the riverside, the Yankees' offseason changed dramatically for the better, but Cashman's did not.

Up to that juncture Cashman had not signed Cliff Lee, the Yanks' prime free agent target, nor made any other improvements to the team through free acquisition or trade that would have positioned it to compete with the recharged Boston Red Sox for a divisional title. Cashman's inability to significantly upgrade the Yanks had left them with their most compromised pitching rotation since 2008, a year in which they took their 89 wins and the old Stadium to bed early in September, not making the playoffs for the first time in 13 seasons. They say baseball seasons aren't won or lost in the winter, but that one was, having been determined the previous offseason, when Cashman inserted rookies Phil Hughes and Ian Kennedy as 2/5 of the starting rotation rather than trade with the Minnesota Twins for Johan Santana.

It was the 2008 rotation, more than any other in his tenure as GM, that bore Brian Cashman's stamp. And while it is fair to say that Cashman had his sights set on 2009's signing of CC Sabathia when he passed on Santana, it is only after the fact that his decision seemed vindicated. In 2008, there were no guarantees that Sabathia would choose to play with New York when he became available through free agency. The Yanks don't always get their man. As Cliff Lee reminded the team, its fans, and the rest of the baseball world in boldface a month ago, when he spurned the Yanks' reported 7-year $161 million offer and chose instead to accept fewer years and dollars from his former team, the Philadelphia Phillies.

But baseball is of the moment, and the questions of this moment aren't really whether Cashman was thwarted in accomplishing his offseason goals shaping the 2011 Yankees squad — that isn't really denied by anyone, including the GM himself — but why it happened, and how, and whether he was at fault, and if he was at fault, how much of that responsibility he'd earned.

The offseason was of course all about Lee from the beginning. When he chose Philadelphia and the National League over New York, it instantly framed the Hot Stove debate elicited by Cashman's performance. At issue was whether he could have done anything more, and what his alternate plan — his Plan B — would be.
For many Cashman defenders it was an easy call: He and the Yanks had made Lee the most lucrative offer of any team in the Major Leagues, and Lee had passed for non-monetary reasons. The free agent and trade markets for starting pitchers was sparse, with a tremendous dropoff in talent levels between Lee and the rest to be had. Cashman, they argued, could not conjure a pitcher out of thin air. He'd put all his eggs in one basket not because he'd wanted to, but because there was only one available.

All that was at once true and oversimplistic. While the other available pitchers weren't of Lee's caliber or worth whatever price they would have demanded in money or trade, Cashman had seemed both blindsided by Lee's rejection and bereft of anything close to an alternate plan for attacking the problems the Yanks would face in 2011. And the biggest potential problem had been right in front of him, at least since the end of the 2010 season, when Andy Pettitte made it clear he was considering retirement — and really much earlier, since his return for another season was never a certainty.

In light of this, it's almost incomprehensible that Cashman and his baseball people did not consider the one obvious and critical what if; that none of them asked behind closed doors what their contingency would be if Lee didn't bite.

There were clearly other ways to go. Constructing a baseball team is a soft science that requires flexible formulas. It's true that exceptional pitching wins championships — most of the time. But the 2004 Red Sox demonstrated that the combination of adequate starting pitching and a powerful offense can carry a team through a regular season and beyond, much as the Angels repeatedly showed it could be done for years with adequate starting pitching backed by an exceptional bullpen and solid offense.

Cashman was vocally disinclined to take either approach, even while the Red Sox were methodically constructing their racecar engine offense to the north — and as outfielder Brett Gardner underwent early December surgery to remove inflamed tissue from his right wrist, a procedure that is far from minor, only recommended when all other non-surgical treatments have been exhausted, and that has an average recovery time of 8-12 weeks. That means Gardner will have to heal without any setbacks to be ready for Spring Training. And means the Yanks have to hope the repetitive stresses of batting and sliding into bases won't sideline Gardner for significant stretches of the season. And especially means the Yanks must keep their fingers crossed that Gardner responds to his surgery and rehab a whole lot better than 2010's nominal designated hitter Nick Johnson, who had essentially the same surgery last May and was never seen again.


This isn't to be pessimistic. Gardner may well have a productive year. Just as Derek Jeter may bounce back strongly from his career-worst season. Just as Mark Teixeira may overcome his late-start-itis at the plate, and Alex Rodriguez may have less restrictive soreness in his surgically repaired hip, and Jorge Posada may adjust to his new DH role and be more productive than last year absent the rigors of catching, and Curtis Granderson may show the form he did late rather than early in his first season with the team.

But how often in baseball does everything work out according to a best case scenario? Given the increased strength of the Red Sox, and the formidable offenses throughout the American League East — in fact throughout the entire American League — it is difficult to see how the Yankees could weather a decrease in offensive production combined with a weakened rotation and the same bullpen that, despite being carefully rested by their manager, proved unreliable toward the end of 2010.

Cashman, however, either saw things differently, felt the cost of addressing these needs was too high, or both: "We never made an offer," he said after the Red Sox's signing of premiere outfielder and speed demon Carl Crawford. "I've reached out to everybody and anybody, but it's not a need for us. We have Gardner, we have Granderson, we have Swisher. I have a certain amount of money I can spend. I'm going to be aggressive in areas of need, not areas that aren't of need."

Crawford's deal with the Red Sox is for seven years and $142 million. He will be 30 in August, 2011, and in his late thirties when the contract expires. Critics of the deal insist that his speed will decrease in those latter years so as to make them financially burdensome for the Red Sox. That may or may not be how it works out. The Red Sox are probably thinking that if he helps win them a few championships along the way, the extra years are worth it, kind of like the Yanks must have figured it with Bernie Williams.

Be that as it may, Cashman took a pass on Crawford. As far as bullpen help, he passed on top left-handed reliever Scott Downs, whom the LA Angels signed for three years and $15 million, although he would later sign lefty Pedro Feliciano to a two-year $8 million deal that, while not season-altering, was a sound one. And then there was the acquisition of catcher Russell Martin in a one-year deal meant entirely to bridge the gap between departing veteran Posada and the arrival of either Austin Romine or Jesus Montero from the Yankees farm system.

In early December, Cashman rappelled down the 22-floor Landmark Building in Stamford, Connecticut as "celebrity guest elf", accompanying a costumed Santa Clause for the city's holiday season Heights and Lights event. At the time, neither Derek Jeter nor Mariano Rivera had been re-signed as Yankees, Cliff Lee was off somewhere in his protracted deliberations, and Yankees fans were locked in a state of angst about all of the above. Although Cashman's extracurricular stunt most likely wasn't a distraction from the business of putting together a team, it was hardly a sensitive acknowledgement of the Yankee fan base's profound unease. In the political realm, nobody likes seeing their elected official vacationing in Hawaii or Martha's Vineyard during times of national crisis. In Yankeeland, it's probably less than advisable to engage in a precarious lark wearing a green-and-red elf suit when your paying customers are looking at Sergio Mitre as their team's fourth or fifth starter.

Come mid-December, when Lee slipped the net, and Cashman fielded questions about his fallback in a thirty-minute telephone press conference, he would tell reporters that, "Plan B is patience. We'll engage the remaining free agents and trade market and pursue what interests us at the level we feel appropriate."
In early January, with just over a month to go till Spring Training, Cashman brushed off published rumors that the Yanks were interested in free agent closer Rafael Soriano as an 8th inning setup man to bolster the back end of the Yanks' pitching staff. Coming off a league-leading 45-save season, Soriano boasted a 1.73 ERA and 0.80 WHIP for the Tampa Bay Rays in 2010. With Mariano Rivera now re-signed, and Cashman having stated he would be aggressive addressing those areas of need he'd talked about, and the Yanks still having their hands on that 161 mil they'd figured they would be spending on Cliff Lee, an interest in Soriano seemed reasonable. If you can't improve on your starting rotation, then shorten the game to put less stress on it. Give opposing teams one fewer inning to play with. Get it in their heads that they have six or seven innings to beat you because after that they won't have shot. Like the Yanks did in 1996 and 1998. Like the Angels did in 2002, riding Troy Percival and a young Francisco Rodriguez to a World Championship.

It seemed a logical way to address a problem. Part of a flexible formula. But Cashman didn't like it.

"I will not lose our No. 1 draft pick," he said unequivocally when asked about pursuing Soriano. "I would have for Cliff Lee. I won't lose our No. 1 draft pick for anyone else."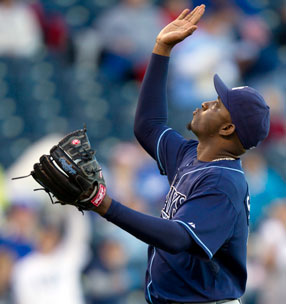 That draft pick, who will be the 31st overall in the next draft, would go as compensation to the Rays for the Yanks signing a Type A free agent to whom they had offered arbitration.

No one knows yet who that draft pick will be, or if he will be a pitcher or position player, or when he will be major-league ready, if ever.

This isn't to diminish the value of draft picks. If you are the Kansas City Royals, your business model is very different from that of the New York Yankees. You have strict budgetary limitations and must be protective of every one of your draft picks for organizational depth. A draft pick may become a star player you can control for many years. A draft pick may become a highly ranked prospect you can trade for other prospects or players. If you are the Kansas City Royals, draft picks are a very big deal.

The Kansas City Royals, however, also charge a hundred-ninety dollars apiece for their Royal Crown Club field-level seats behind home plate, and fifty-seven apiece for their Diamond Club Seats, and thirty-six for dugout box seats. In case you didn't know it, the Yanks' rates are just a wee bit higher. Like, say, those Legends Suite seats behind home plate that go for roughly a grand and a quarter.

The New York Yankees have to satisfy the customers who are paying big bucks for those seats, and customers who are paying a lot less but still a whole lot more than Royals fans for their seats, between forty and fifty thousand of which sell at the Stadium every night. They have to satisfy millions and millions of customers living outside their home market, people hither and yon around this big blue globe of ours, who are buying Major League Baseball television and internet packages to view their games. As one Navy veteran from Ohio told me, when U.S. military personnel are away in unfamiliar and treacherous environments, they look for people in Yankees caps to make them a feel a little bit at home.

Without wanting to belabor a point, or sound dismissive of other ballclubs, this is somewhat different from teams like Kansas City, and the Tampa Bay Rays, and Cleveland Indians, and others who need to treat their draft picks as precious commodities.

Last Thursday, it became abundantly clear that someone not named Brian Cashman in the Yankees front office had strongly and decisively come to that exact conclusion, would not hedge their 2011 season on a draft pick. As has now been widely reported, Cashman was overruled on Soriano by Hal and Hank Steinbrenner and perhaps club president Randy Levine, and Soriano was signed to a 3-year $35 million deal with some opt out clauses here and there.

With that acquisition, the Yankees went from being unquestionable underdog in the AL East to a full-fledged contender, whatever ultimately happens with the undecided Pettitte. With that one acquisition, the Yankees' offseason became a success. Not the sort they'd wanted it to be going in, but still a success.

A month before Spring Training, with a full season ahead of him to work further improvements on the team, it might yet wind up being one for Brian Cashman too.

For now, though, he remains behind at that river crossing, measuring a course others in his organization have already chosen to take.