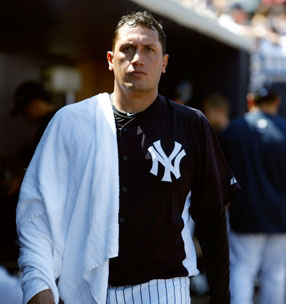 It was difficult not to wonder what makes Freddy Garcia tick, watching him shut out the Texas Rangers for six innings on the way to a 5-2 win for his new team Saturday afternoon. Two hits, a walk, that was all the batters got off him in the wind, rain and cold at Yankee Stadium.
In the old days, with the Mariners, Garcia had thrown hard and was occasionally a little wild with his pitches. You can picture him, sweaty, thick black hair dripping wet and plastered to his face, that wildness occasionally getting him in trouble if his emotions were maybe running too high. This was back in 1999 and 2000, when he was twenty-five or thereabouts. A big guy in his mid-twenties throwing a fastball in the mid-nineties, struggling to harness the velocity charging through his right arm to his fingers. A cowboy out there on the mound, although he looked more like an American Indian chief, that was Freddy Garcia as a very young man.
At 34 years old, Garcia doesn't have that kind of power anymore. In 2006 with the Chicago White Sox, when he still threw heat, he'd gone 17-9 with a 4.53 ERA for the season, though it shrank to 2.49 in his final six starts. That year, he pitched more than 200 innings for the seventh time as a major leaguer. The year before, he won all three of his postseason starts for the team on their way to a World Series championship.
Then his body betrayed him. While signed with the Phillies in 2007, Garcia had felt some soreness in his arm, and an MRI had shown damage to the labrum and a "frayed" rotator cuff. When rehab didn't work, there'd been season-ending surgery by James Andrews in Birmingham, Alabama. The next two years were essentially lost as he struggled to make a comeback from injury. Finally, in 2010, he'd rejoined the White Sox playing for his former manager Ozzie Guillen, and gone 12-6 with a 4.64 ERA in 157 innings. Somewhere in-between he'd figured out to make do with the stuff he had left.
"I learned to pitch," he said after Saturday's game in the Bronx. "Good pitchers, when they don't have good stuff, they go out there and perform. That's all I can do . . . I think it's all about competing. You go out there, compete, good things will happen. It doesn't matter how hard, or whatever you throw."
At the beginning of Spring Training in Tampa, hoping for good things with the Yankees, he'd agreed to a Minor League deal knowing he'd have to compete for a job with other reclamation cases. Throughout the spring, he'd said that he took nothing for granted, and knew he would have to pitch very well to make the club, work hard to earn his spot.
You get the sense this was no revelation for the former All Star, no sudden epiphany. You check his player biography, the line where it says College Education, and you see the word none. Then you read that he was born in Caracas, Venezuela, and then broke into the Majors as an undrafted free agent for the Houston Astros, and if you've been around baseball, and maybe know a little about how most people live in Caracas, you right away get an inkling of his story.
A little poking into his background gives more specifics. Garcia and his siblings grew up in the barrio, which we call a ghetto in this country, on a hillside so steep you couldn't play ball outside their home without tumbling down the slope heels over head. In Caracas, where most people live in destitution, they cut plots out of the mountainsides, and make frames out of cheap steel rods, and walls of concrete slabs, and then, some of them, if they have the means, run in pipes for iffy tapwater and electricity and call them homes. In the Caracas ghettos these are the shanties, where people live hoping the mountains won't wake up in annoyance someday and shake them off like fleas. When you look at photographs of those areas, you don't see straight roads or sidewalks or anything like that; it's as if somebody just tossed children's building blocks over the mountain in close, chaotic jumbles, one here, another there, a couple more right above, and down below, and maybe a few on either side.
Garcia's father, Freddy Sr., who drove a truck, sometimes had thirty family members living in his home at a time. On that forty-five degree slope he once said might have shot right up to heaven above.
For Freddy Jr. there were no organized little leagues, college recruiters or scholarships, no career fallbacks like there are for many middle-class kids in America who grow up with aspirations of becoming professional baseball players. What he had going for him was a scout for the Houston Astros named Andres Reiner, who'd talked the owners of his team into opening the first baseball academy in Venezuela, and had spotted him at an open tryout, and eventually pushed the Astros to sign him in 1993. But if Freddy Garcia didn't cut it in the majors, he knew he was in all likelihood going to live like his father lived in impoverished Caracas, and the world wouldn't have known or cared one iota about it.
On March 30, 2011, the last day of Spring Training in Tampa, Garcia signed a Major League contract with the Yanks and was added to the team roster. Saturday at Yankee Stadium, making his first start since the close of the Grapefruit League eighteen days before, he needed only eighty-four pitches to earn a win, sending Texas hitters back to the dugout one by one.
In those eighteen days, Garcia explained, "I threw a lot of bullpens, working with the pitching coach . . . I tried to stay in shape for today . . . I don't pitch for style points. I don't throw that hard anymore, so I gotta go with my strengths and make it happen . . . make a good pitch, sinker, ground ball, like that."
Like that. As if to minimize what he'd accomplished. We see pitchers younger than Garcia, pitchers with more on their fastballs, who are unable to make it happen when they lose a little something, when their arms feel heavy, when they aren't a hundred percent. Asked for his thoughts on why some of them can't get it done, Garcia just shrugged, and laughed, and then said simply, "I don't know. If I had the velocity I used to have, you know, for me it wasn't hard. Now, I have to . . . make contact, whatever, move the ball, that's the way it is."
But maybe that way is clearer when you've come up from where Garcia did. Maybe it gives you a certain kind of maturity, an edge that gets blunted here in America by high school and college honors, early popularity, and fat signing bonuses.
There are no easy answers. In baseball conclusions are about as solid as putty, and what sounds smart today can seem facile and stupid tomorrow. But you see things, hear things, and sometimes you really can't help but wonder.
"He's a lot like David Cone," said Alex Rodriguez of Garcia after Saturday's game. "It's funny he wears his number, because he finds a way to win . . . he's very smart. He knows what the hitters are looking for and he knows how to run away from the barrel."
And also knows what it is like on that high slope where there is no baseball, and nothing in the world is guaranteed. Except, perhaps an understanding that the fall to the bottom is steep, and that what is gained, and held, must be well and truly earned.
--
With appreciation for Hugh Dellios's excellent profile of Freddy Garcia, "From Hilltop Barrio to Top of the World," which originally appeared in the October 26, 2005 edition of the Chicago Tribune.
Follow Jerome Preisler on Twitter: @YankeesInk