The father stared at the machines around his son's hospital bed and listened to the beeping. The boy, Daniel, 12, was in a medically induced coma. They'd done a tracheotomy to ventilate him, push air into his lungs. He had sixteen lines in him, two drains in his head. More lines running into him from the IV stands and equipment than years behind him.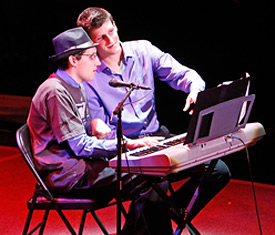 Ken Trush sat there, watching. Just wanting to be there with Daniel. One day, two, five, ten, twenty. Watching on his 'round the clock vigil. At one point the pressure in Daniel's skull bumped to 30 points above the level doctors said would induce brain death. Then it went down. And then up again.

Brain death.

It wasn't supposed to be. It's never supposed to be with children.

Daniel was a lively kid. Gregarious, curious, got along with everybody, played a couple of instruments. Guitar was one, and the trumpet too. He'd loved music, wanted maybe to be a musician someday. Lately he'd been having headaches, and the doctors had said they were migraines, sent him home with a mild prescription. And then he had collapsed while playing basketball in the schoolyard on the Upper East side of Manhattan, fallen into his father's arms on the court, and whatever had happened was no longer about headaches.

At the hospital, the tests revealed Daniel had five brain aneurysms. An aneurysm is a dilation, or swelling, of part of a blood vessel. The wall of the vessel weakens and the pressure of the blood running through makes it balloon outward in that compromised area, and sometimes it weakens enough to burst.

One of Daniel's aneurysms had burst. Probably the normal rise in blood flow from playing basketball had put stress on the weak spot and ruptured it. And the blood flooded out into his intracranial spaces, filling his skull.

The coma was meant to relieve the pressure on his brain. The drains would give the blood and fluids someplace to go while the coma reduced the metabolic rate of his brain tissue and helped the swelling diminish. The pressure could still rise and fall, as it had for Daniel. Brain damage was almost inevitable, and with the spikes Daniel had experienced brain death a strong likelihood.

At his son's bedside, Ken Trush brought a Gloria Estefan CD into the hospital room to fill the silence. It was partly for Daniel, but it was for himself too. The moments stretched during his watches, each one a slow eternity, and music was better that that hospital room silence, punctuated only by the cold beeping of the machines. But Ken had remembered how much Daniel loved music, and he found the thought of filling the room with it soothed him somehow.
There was another reason, besides. The two songs Ken would play over and over were "Reach" and "I'm Not Giving You Up". Their names suggest a lot about what that reason was, but Ken will tell it in words that leave no doubt.

"To me it was my communication to Dan, that I was always going to be with him," he said. This was Monday at Yankee Stadium, 14 years later, after Daniel's Music Foundation had given a performance at Broadway's Brooks Atkinson Theater, one in which Daniel had participated, played keyboards with his most mobile hand. "You can only say I love you so many times in words. But in music, and songs, you can really pour your heart out. So when he was in a coma, I'd play that CD over and over again."

And sing along to it like a mantra, a family friend said. Reach, I'm not giving you up. Reach, I'm not giving you up. Ken would play it so often that when the doctors felt the pressure on his brain had eased to a level where they could bring Daniel out of his coma after 30 days, he knew the words of the songs by heart. Reach. I'm not giving you up.

He couldn't tell his parents he knew the lyrics, though. Not for a while. Down to 65 pounds, his muscles atrophied, Daniel could open his eyes and blink, but that was it. There is only so much one can communicate like that, at least without tremendous difficulty, and his knowledge of song lyrics wasn't the first thing on anyone's mind.

Slowly the lines came out of him. The one from his throat after two months so he could finally breathe on his own. Four months after passing out in his father's arms, Daniel spoke a few words. It took a long time before he could say more than that.

The expectations weren't great for him. Sections of Daniel's brain had been damaged. There was no telling how much function would return. Not every doctor was optimistic he'd regain his full power of speech, let alone be able to walk again.

Daniel was determined to do both, committed to it, and worked hard with his therapists. His speech returned more quickly than the walking. But after two years in a wheelchair, he got up and took his first tentative steps.

He's a bit unsteady on his feet these days, but at the theater he was full of uncontained energy and wanted to be everywhere at once, and maybe that had something to do with it. And there was plenty for him to do. The dress rehearsal. The meet-and-greet. The concert. And talking to droves of reporters.

Daniel hadn't planned on any of it, let alone the Yankees contingent showing up to round out the full house of invited guests. Nick Swisher, Francisco Cervelli, Russell Martin, Chris Dickerson. Bernie Williams, the guitarist who once had a little something to do with the team. The PR chief Jason Zillo, who's also the head cook for these HOPE Week surprises. And Jennifer Steinbrenner-Swindal.

"I just knew that I was coming here. I didn't know what I was gonna be doing here. I was wondering what was going on," Daniel said. "I never expected to perform on Broadway, that's for sure."


The concert was being given by the students of Daniel's Music Foundation, a nonprofit organization that provides free music instruction to individuals with disabilities in the New York area.

The idea for the group came to Ken about five years ago, when Daniel graduated high school, and his dad and mom, Nancy Trush, were thinking about his future, fully aware of his limitations. The aneurysms had left him with some short-term memory impairment and physical disabilities, but they still wanted him to follow his passions and do something meaningful.

A visit to an agency wasn't encouraging. Maybe, they suggested Daniel could wash dishes or be a maintenance person. "There's nothing wrong with those jobs," Ken recalled. "But at age 19, it just didn't feel like that was his career path."

So Daniel went to Hunter College as a non-matriculated student and connected again with music. And then Ken went online and did some research, and saw where spaces needed filling, like he'd known intuitively about the silent moments that needed filling in that hospital years before. And he got some ideas.

"I know there's music therapy," Ken told his wife, their other son Michael, and some close friends. "But how about we try to direct some of it, improve some of it? How about acceptance? Because in the end, that's therapy in itself."

Ken had seen how therapy could be invaluable. He was profoundly indebted to Daniel's physical therapists for the progress they'd helped his son make, but felt Daniel, and people with other challenges, had an additional need. Music, he thought, could be therapeutic without feeling like yet another form of therapy.

"We wanted the foundation to have the feeling [that], 'Okay, we're going to respect you as you are,'" Ken remembered. "We know you're going to continue getting improved. But we accept you. And so come and express yourself to us. And that's been magic."

His original concept took concrete form as a single class with five people in a Manhattan studio. This was in 2006. With the help of friends who helped from the beginning, and sponsors they were able to interest in the project, it's grown to a 150 people in 26 on-site and three off-site classes.

Brooke Bryant is one of DMF's multitalented instructors. She was also the Musical Celebration Director for the HOPE Week Performance. Onstage, doing "All That Jazz" with her students to open the show, Brooke sang and moved like only a trained, professional New York stage performer can sing and move -- no coincidence there, because that's exactly what she is. Enjoying the game at Yankee Stadium later, out of the spotlights, her sleek Fosse-esque stage outfit swapped for jeans and a sweatshirt, Brooke was no less striking and focused as she explained her special commitment to the foundation.

"I was in grad school at the time at the City University of New York doing my PhD in musicology," she recalled of how it began. "One my colleagues was teaching voice at the foundation and didn't have time to do it anymore, but thought I would be a good fit. I had never really worked with people with disabilities, so I wasn't quite sure what I was getting into … but it's been really interesting in the context of what music means to the Trush family and the spirit they bring to the disabled community."

Asked how she might describe that spirit and context, Brooke readily articulated her thoughts. "Everybody who's involved, there's an expectation that they're facing challenges in their life. They come knowing they're in a place where it's safe to come with those disabilities. There are a lot of music therapy programs, but the DMF is not music therapy. It's music. It's teaching people music. It's approaching a goal from a strength-based perspective. And people come because they want to learn, and we're figuring out . . . what is the best way to help this person."

In her voice classes, Brooke has had students who are nonverbal or emerging verbal. For her, the challenge has been finding methods of engaging them, of making them feel as if they are learning in the class. Her successes have been a source of tremendous reward. "The way they … interact with each other, come out of their shells, teach other people in the class in a way that's beyond words … it's really, really moving, she said. "It's been a wonderful experience, I've been humbled by it, I've learned a lot."

Artie Elefant, DMF's outreach coordinator, is visually challenged and radiates the embracing warmth and good humor of everyone's favorite uncle. Artie plays bongos, some rhythm instruments, and does a little singing with the concert groups. "Not that I'm very good at it," he said in a tone that was like a gentle poke in the ribs. This was in the Stadium concourse, while Daniel stood behind him doing the YMCA dance with his father, willing one partially paralyzed arm up as high as he could to form half the letter A.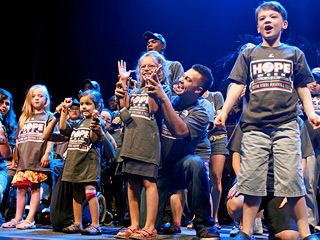 "The program is most definitely one of the most inspirational things that I have ever gotten involved with in my life," Elefant said, and paused. He leaned forward on his cane, his face turned serious. "The people who have come through the program, what it has done for them, from a standpoint of bringing self confidence, is empower them to feel that they can achieve whatever they want, and given them a meaning in life … not only a feeling of accomplishment with their own expertise but doing something for others."

Not far away in the stands, young Eilish Herlihy, who has Down's Syndrome, and must struggle with severe speech impediments, was looking full of that confidence and rightful accomplishment. Back on Broadway hours before, she had sung "Take Me Out To the Ballgame" with Bernie Williams accompanying her on guitar.

Seated with her parents Catherine and Sean, Eilish shared both her mother's freckles and bubbly disposition. Before the start of the rain-delayed game, she was hoping to see Brett Gardner run the bases. This was no wonder. She was in a running group for children with disabilities called Achilles Kids, doing a marathon, when she met Daniel Trush, who was also a runner.

"When they started the music, we started with them," said Catherine of the Trush family.

Eilish loves Gardner and Robinson Cano, both of whose careers she's been following since they were in the Minors. Her only critique of the current team was that she "Wants Melky back."

Melky Cabrera, she communicated with a little help from mom, was always fun.

Speaking to her at the ball game, and to other shining lights had performed on Broadway that day, it was impossible not to think, full circle, back on the moments before the musical celebration, and Daniel's simple response when asked what his feelings about what his foundation, a bright blossom that grew out of a time of darkness, has accomplished.

"I can't believe it," he said. "It makes me very happy … and proud."

Follow Jerome Preisler on Twitter: @YankeesInk