To celebrate the fall of the Berlin Wall in 1989, Leonard Bernstein organized the most extraordinary concert in the history of classical music. On Christmas Day in the famous Schauspielhaus, he summoned the New York Philharmonic, London Symphony, Bavarian Radio Orchestra, Staatskapelle Dresden, Kirov Orchestra and Orchestre de Paris, along with several international choirs and world-class soloists in an unprecedented performance of Beethoven's 9th Symphony. No display has ever matched that scope, and only a figure as respected and persuasive as Bernstein could pull that off.

Pat Riley has just accomplished a similar feat in the NBA. In what was the greatest free agent class in all the NBA's star-studded years, Riley managed to bring not one, not two, but the top three free agents to the same team. LeBron James and Dwyane Wade are regarded as two of the best three players in the world (top two in my opinion), and then they add the immensely talented Chris Bosh (if he was obscured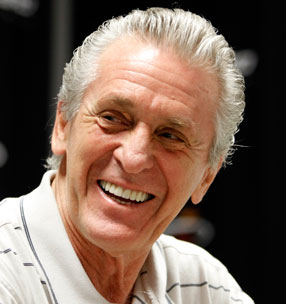 before, he will be no longer). This is an NBA super-team more talented than any in the modern era.

Forget whether LeBron shamed himself, whether the Heat are worth hating or whether this is good for the NBA; Miami is now the prohibitive favorite to win the NBA title, and it astounds me how many so-called "experts" fail to see what should be obvious. This is no regular Big Three. LeBron and Wade are too athletic for single coverage, both excellent defenders (that seems to be lost on people, somehow?) and freakishly good passers. This is the modern-day Dream Team, on an actual NBA squad.

The argument against? "They don't have role players." First of all, this team is talented enough to get by with mediocre complements. Secondly, the team WILL have role players. Mike Miller and Udonis Haslem are already on the way. More are coming. Would you ever doubt Pat Riley after he pulled off this coup? Riley is Bernstein. Riley can recruit in ways previously unthinkable.


The question should not be whether this team wins an NBA title. The proper question is whether they can surpass the Bulls' 72-win season, featuring Jordan, Pippen and Rodman. With the right parts and limited injuries, this group can do it.

Vegas knows how to pick a favorite. Gamblers don't mess around. Miami is already the odds-on champion in Vegas, and expect those numbers to get even more lopsided as the team gets constructed.

The Miami Heat will be the 2011 NBA Champions, and I'm not really going out on a limb to state what should be clear as day -- for those who disagree, just wait and see.