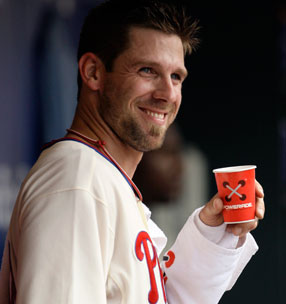 Like many people, I was convinced Cliff Lee would be wearing pinstripes next year. I assumed Brian Cashman would propose an almost-impossible-to-refuse offer (something short of a horse's head, but not by much) and that Lee -- after much reflection -- would go the way of A-Rod, Randy Johnson and others who dispensed their smaller-town values for a glitzy shot in the big city.

It was not to be. Why he chose Philadelphia does seem a bit curious, but I don't think anyone can chastise him – and it seems few have. New York just isn't for everyone, and if the Yankees came away empty-handed this offseason, the blame falls on them for putting all their eggs in one Gotham-shy basket.

In the BBC adaptation, Love in a Cold Climate, one character remarks of Paris in the late 1930's:

"One's emotions are intensified in Paris -- one can be more happy and more unhappy than in any other place."

When it comes to sports and the modern age, Paris may as well be New York. Perhaps Lee just didn't feel up to a place with such violent swings of support and condemnation, known for its relentless and suffocating press and unreasonable expectations. Some would argue that makes him less of a competitor, but to me, it just seems like an athlete exercising his right to tranquility.


But putting Lee aside and forgetting any lingering resentments – which really don't matter now that he's made his choice – where does this leave the Yankees? In the days since the fallout, there have been articles blasting the Yankees brass and some insisting the Bombers will be fine. There can be no doubting that the Red Sox have improved considerably, but New York is still a top-tier team with oodles of talent.

The more intriguing component – and this is where Yankees fans should find their inner holiday spirit – is just how scintillating this season is shaping up to be. For the first time in ages, the Yanks are somewhat of underdogs, downtrodden from the media and seemingly in a brittle state. What more exciting team could there be to root for?

Beat the Red Sox this year and the thrill will be more real, more deserved. Cliff Lee's refusal only reinforces that the Yankees are not quite the "Evil Empire," but capable of being likable, of playing the vaunted nobody-believed-in-us card. Think how much more pleasurable it will be to earn a championship instead of buying one. This is the chance to shed that label. This is the chance to do something no privileged-to-the-nth-degree team ever could: to win the title a better way.

Look at the bright side…this Yankees team will be mighty fun to watch, and a championship run would be a whole lot more satisfying.

Click here to follow Adam Spunberg on Twitter