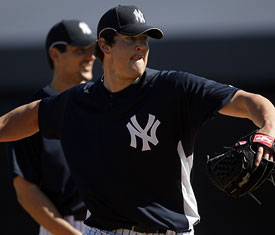 It's Day Five and today the full team reported. One of the players' obligations upon arrival is to take their physicals. Our production team is set up in the visitors locker room at George M. Steinbrenner Field and on report day the training staff utilizes the room to conduct eye exams, so we had to break down some of our set to accommodate their exams. When we arrived at 7:30 a.m. the eye charts had been moved and we were able to salvage our morning and in turn, our entire day.
First up in the interview chair was Andrew Brackman. The 6'11 righty discussed his struggles in 2009, referring to it as his "worst year athletically." A year removed from Tommy John surgery, Brack's velocity was there, but his command struggled and he found himself in the bullpen. He found both command and confidence while in the bullpen. When I asked him what it feels like to have all of the coaches and Joe Girardi raving about his progress, he said that his mother called him and told him the same thing. However, the best thing for him is to ignore all of it and keep working.
Next up was Mike Rivera. The 33-year-old catcher is in the mix to become Jorge Posada's back up, but would probably be an insurance policy should Posada or Frankie Cervelli get injured early in the season. He said he thinks that his experience in the league can do nothing but help him.
Twenty-two-year-old lefty Jeremy Bleich is planning on starting his season in Double-A Trenton surrounded by his New York City ties. Although born and raised in Louisiana, Bleich's (pronounced Blyshe) parents were born in Brooklyn and moved to Louisiana to be a resident at Tulane Medical School. The Stanford alumnus said that he is enjoying the ride right now and also reveling in the Saints Super Bowl win.
Randy Winn reported to camp in great shape and says he is excited to join the club in any capacity. Spending his first five seasons in the AL East with the then Devil Rays, Winn is familiar with several of his teammates as competition and was teammates with a few in the 2006 World Baseball Classic.
In a year of returning prodigal sons, Marcus Thames is back with the organization that drafted and developed him. He was brought up in 2002 and led off his Major League career with a home run off future Hall of Famer and then Diamondback Randy Johnson, which was followed by a curtain call in the old house. He said that when he watched the Yankees celebrate the 27th Championship last season, he realized how much he missed the Bronx and how much he wanted to get back there.
Keeping with the "Welcome Home" theme is the return of Nick Johnson. He said that it was a surreal experience taking BP at the Minor League complex where he polished his skills at age 17. He also told us that there were negotiations with other teams, but when the Yankees came calling, that was it.
A.J. Burnett sat down and we discussed the perception that he didn't enjoy pitching to Posada. He immediately reminded us that some of his best games of the season came with Jorge as his battery mate including seven shut out innings against the Mets. He also said that although he created it, he doesn't want to be known as the "pie guy." Burnett hopes they can move forward and make more memories. However, he was upset that he never got to get "Jete." Although Burnett didn't say it, it appears that Jeter's pie in the face experience may be the last we'll see. Stay tuned kids.

Last but not least was Posada, who was in a great mood when he sat in with us. He had no problem sitting with us for quite a while and being totally honest and up front. Posada mentioned the conversations that he and Burnett have had to forge a better understanding of how they can approach games. Jorge was also brutally honest about his opinion of Jesus Montero and his development. Posada said that "the kid could hit .300, hit 30 home runs, and drive in 100 right now." Posada's concern was for Montero's gigantic frame and said that by coming in larger than he did last year, he took a few steps back developmentally.
One thing I was most excited to hear about was discussing the 10-year anniversary of the 2000 Subway Series vs. The Mets. He said that he remembers not being able to walk on the streets without either support or heckles during that whole span. Posada said that by having both Shea and Yankee Stadiums rocking it was a great thing for New York and its baseball fanatics.
Today took a large chunk out of what we came here to do. We're now at a point of confidence that we can have all of our production responsibilities done by Friday and be able to leave when we planned...THAT BEING SAID, the lunacy that is media day is Thursday. This is the crescendo of a week of little sleep, little patience and lots of humor. The tapes we've shot were all received at our studio and we've had nothing but great feedback. As my Mother-In-Law Peggy so eloquently puts it; "The Battle Rages."
Retraction/Addition
After reading the Blog, I realized there was a detail I forgot to mention. In passing, I wrote that during his BP session, Montero hit the 'M' in the George M. Steinbrenner Field sign in left-center. Now for those of you that have never been to or seen GMS, that's a shot! It's on the top of the video board. A link off of our good friends at River Ave Blues reads as follows:
"@BobLepore: @Ledger_Yankees Google earth measures home plate to scoreboard as 446 ft. (yeah I have no life)." That's not to shabby for a 20 year old kid who, when talking about his swing said "Today (2/22) I found it a little bit. It's not there yet."

The next day they ran opposite field hitting drills. According to YES Network Producer Todd Moulen, Montero went opposite field three times in a row on a seven pitch session. The swing is so there ... his concludes our daily Jesus Montero report, sponsored by Man-Crush.