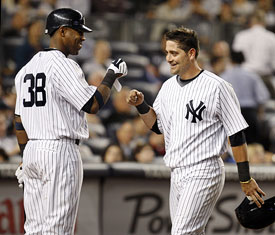 We should all do our jobs the way Francisco Cervelli does his: with the same passion, the same energy and the same joy. Even if we could only do it for one day, we should all be as happy at work as Cervelli is when he is playing for the Yankees.

"My mom always said, 'Have fun because you don't know what's going to happen tomorrow,'" Cervelli said.

Cervelli has fun, endless and unbridled fun. His giddy disposition is not an act. Cervelli really is an affable guy who is thrilled to have a locker in the same clubhouse as Derek Jeter, Alex Rodriguez and CC Sabathia. If Cervelli plays for another decade, let's hope he remains this innocent and this excitable. It is a significant part of why he is such a charming story.

As A.J. Burnett pitched powerfully into the eighth inning of a 4-1 win over the Baltimore Orioles on Tuesday night, Cervelli made several plays, some big, some small and some daring, that helped make him as pivotal as any player at Yankee Stadium. Cervelli has a happy, reckless approach that Burnett called infectious.

Cervelli's starry night began with a triple to right center field in the third inning. When Cervelli reached third base, he clapped his hands three times. He scored the Yankees' first run. One inning later, Cervelli scooted toward the first base dugout, reached over the railing and then tumbled over it to make a superb catch. Cervelli added two more singles, including one on a beautiful bunt.

"He did all the little things you expect him to do," said manager Joe Girardi, "and did them as well as you can do them."

Here is all you need to know about how savvy Cervelli is. When Cervelli was asked what pleased him the most about his stellar game, he referenced Burnett's three straight strikeouts to finish the third and strand two runners. Cervelli, who is now hitting .387, said he is confident as a hitter, but added, "My job is behind the plate."

Since Jorge Posada has a strained right calf, Cervelli will start again on Wednesday. Cervelli's inspired play could cause Girardi to start Cervelli more than he originally planned. If Girardi planned to start Cervelli in about 45 games, the manager might think about adjusting that amount. The Yankees could start Cervelli, a defensive stalwart, a bit more and shift Posada to designated hitter. Nick Johnson (.134) has slumped in the DH spot, but without a third catcher on the roster, Girardi might be hesitant to start one of his two catchers as a DH.

The Yankees have always been enamored with Cervelli's defense, but his offensive exploits and his energetic approach have made him an interesting weapon for Girardi. The manager has long been a fan of Brett Gardner because Gardner's speed can help change games. Cervelli's energy and his rapport with pitchers can impact games, too.

Whatever Girardi decides to do regarding Cervelli's playing time, Cervelli will probably keep smiling. Cervelli doesn't see himself as backup catcher. Whenever Cervelli plays, he said he considers himself the No. 1 catcher. As usual, he said it with a smile. Even Posada, who is the No. 1 catcher, would have smiled if he had heard Cervelli say he feels "special" every time he gets the chance to play.

Before Tuesday night's game, Cervelli and Ramiro Pena visited a local hospital and hung out with some ailing kids. During the visit, Cervelli said one girl asked him if he could hit a homer for her. Cervelli, who wore a yellow bracelet that the girl had given him, said he would try. Instead, he socked a triple, two singles and made an excellent tumbling catch. To me, that combination was more impressive than one homer.

After Cervelli reflected on his draining day and night, he said speaking to the sick children had given him "more pleasure than anything else." That was another part of Cervelli's job with the Yankees. Yes, we should all do our jobs the way he does.