BOSTON – Unintelligent, undisciplined and uninspired baseball. That was the way Theo Epstein described the Boston Red Sox's style of play last Sunday. It was a candid critique from a general manager who had grown fatigued by seeing the Red Sox slog through the first month of the season.

When Epstein spoke to John Tomase of The Boston Herald, he added that the situation had "to change." Epstein surmised that the sluggish play "would change itself or we do something to change it." It sounded like a threat. It sounded like a call to WEEI, which is the sports talk radio station that can also serve as a panic hotline here. Epstein added he was not referring to personnel moves when he mentioned the possibility of changes.

If Epstein was that honest with a reporter, what was he saying about the state of the Red Sox during meetings with ownership and with manager Terry Francona? Surely, the assessment was even more withering. The Red Sox watched the Tampa Bay Rays and the Yankees rumble ahead of them in the American League East, which was painful to an organization that expects to reach the postseason.

Unintelligent, undisciplined and uninspired baseball was unacceptable.

"I don't think there's a single player in that clubhouse that would disagree with me," said Epstein, while sitting in the first base dugout at Fenway Park on Thursday. "I didn't call anyone out. I didn't call our players out. We're all in this together. The fact of the matter is we were not playing good baseball. We all know that. And we weren't playing the kind of baseball we were capable of."

Maybe Epstein, who seemed disappointed that his comments were being analyzed, should publicly critique the Red Sox more often. After Epstein's assessment and Francona's team meeting on Monday, the Red Sox have not lost. The recuperating Red Sox rallied from a 4-0 deficit to squash the Angels, 11-6, and sweep a four-game series on Thursday.

So, as the Yankees invade Fenway for the second time in 30 days on Friday, the Red Sox, a team that has looked disjointed, is 15-14. It is the first time the Red Sox have been above the .500 mark since they stopped the Yankees in the season opener. Dustin Pedroia said the Red Sox have to keep "grinding" so they don't tumble any lower in the standings.

The Red Sox have a designated hitter whose bat speed has disappeared in David Ortiz, another DH who is unhappy that he isn't playing every day in Mike Lowell, a catcher who would be better off as a DH in Victor Martinez, an ace pitcher who has a 6.31 earned run average in Josh Beckett and a bullpen that has blown five of 14 save opportunities and has a 4.45 ERA.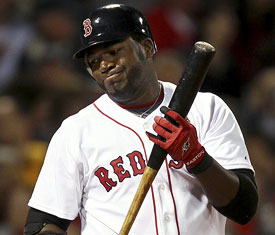 For the Red Sox to continue climbing out of their funk, their current players must experience a revival. Despite the speculation about releasing Ortiz, one Red Sox official said the team is not close to making any moves. But that doesn't mean Ortiz is guaranteed to get at-bats consistently and it doesn't mean he will be with the team all season. Epstein dismissed the idea of making personnel moves right now and called them purely "symbolic" in early May.

"I don't really believe in change for change sake," Epstein said.

As the Red Sox search for reasons why they can rebound this season, they have dug deep into statistics. After 27 games, which is one-sixth of the season, the Red Sox were 13-14. Since 2003, Epstein said the Red Sox have had only one season (2005) in which they did not go 13-14 or worse during a 27-game stretch. Epstein emphasized that he was referring to records through 27 games, from games 28 to 54, from games 55 to 81, from games 82 to 108 and so on. The 27-game chunks weren't cherry picked in each season, Epstein said.

Brian Cashman, the Yankees' general manager, said it would be illogical to dismiss the Red Sox and that he expects them to challenge for a postseason berth. The Red Sox trail the first-place Rays by 6 1/2 games, which is a modest gap with five months left in the regular season. Cashman recalled how the Yankees opened with a 15-17 record in 2009 and regrouped to win a World Series title.

While I think Boston's reliable rotation will enable the Red Sox to hang around in the AL East race, the Rays and the Yankees are superior clubs. Francona insisted that he still believes his team will succeed. When I asked Francona if the Red Sox could match what the Yankees did last year, something that could require a lot of intelligent, inspired and disciplined baseball, he paused for several seconds.

"We'll see," he said.