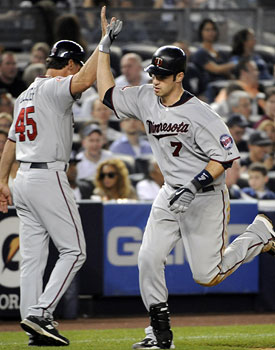 Admit it. You wanted to see Joe Mauer in a Yankee uniform. You thought about it. If you are a hopeful Yankee fan, you probably thought about it a lot. How sweet would it have been to have Mauer catching for the Yankees in 2011? I know fans fantasized about that incredible possibility.

Even with Jorge Posada signed through next season and even with a bevy of talented young catchers behind him in Francisco Cervelli, Jesus Montero and Austin Romine, Mauer's availability as a free agent could have superseded any plans. Mauer is the catcher from another baseball galaxy. He is too superb to bypass, especially since the Red Sox would have pursued him, too.

Before the Yankees or the Red Sox could get too enthused about possibly adding Mauer, he signed an eight-year, $184 million extension with the Twins in March. It was a spectacular development and a relief, too, for Mauer, a polite Minnesota kid who never wanted to leave home.

Still, Mauer must have thought about the Yankees, right? There had to be a moment or three when Mauer wondered if the small-market Twins would be able to pay him like one of the best players in baseball. What would happen if the Twins couldn't do it and Mauer had to consider other teams and their mammoth proposals?

"To make decisions, I always try to check out all the angles and things like that," said Mauer. "When it came to this one, I really didn't want to go anywhere else."

That was Mauer's simple answer to me earlier this month. He didn't envision himself in the same lineup as Alex Rodriguez and Mark Teixeira. He didn't imagine himself bashing doubles off the Green Monster for 81 home games. Mauer saw himself continuing to play in his own backyard. You know what? That's the way it should be.

As much as the Yankees would have loved to install Mauer as their catcher and used Posada as their designated hitter, and as much as the Red Sox would have loved to solve their catching problems with one of the premier catchers of all-time, Mauer needed to stay with the Twins. It was the best thing for the player, the team and baseball.

"This is where I wanted to be," Mauer said. "I wanted to be in Minnesota. I wanted the chance at winning. I think we have that in Minnesota."

The wobbly Yankees will see Mauer and will see Target Field for the first time as they begin a three-game series on Tuesday night. After losing five of their last six games, the Yankees need their starting pitchers to be powerful again, they need some hits with runners in scoring position and they need their relievers to be reliable. Any or all of those developments could spur a revival.

While Mauer and the Twins negotiated, Mauer, who is a shy sort, offered scant insight about the discussions. I wonder what LeBron James thought of Mauer's decision. Like Mauer, James, a son of Ohio who is on the Cleveland Cavaliers, must decide if he wants to stay with his hometown team or seek the glory and glitz of another city with another team. Of course, one of those teams is the Knicks, who play in a city Mauer intimated that he didn't think about at all.

It seems as if King James enjoys the relentless attention that he is receiving about becoming a free agent on July 1. Quiet Mauer hates being the focus and conceded it would have "gotten pretty old" if he had to talk about free agency every time the Twins visited another city this season. Instead, Mauer now owns the fourth-most lucrative contract in baseball history.

Last September, I interviewed Mauer in an empty room at Detroit's Comerica Park. Mauer told me he was "not really" interested in being baseball's highest-paid player, which wasn't surprising. That comment also confirmed my expectation that Mauer would stay with the Twins. The Yankee fans would have embraced Mauer, but he belongs to the Twins. Admit it.