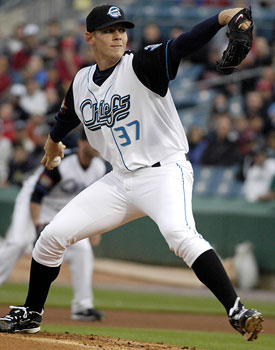 The Stephen Strasburg Era is scheduled to begin at the Major League level on June 8 when he finally pitches for the Washington Nationals. The Nationals will surely have a sellout crowd against the Pirates because their restless fans want to see how great Strasburg is. Not how good, but how great.

On that same night, Rene Rivera of the Scranton-Wilkes Barre Yankees is scheduled to play in Fort Mill, South Carolina. Unlike Strasburg, Rivera probably isn't thinking that far ahead. Two weeks ago, Rivera was still with the Camden Riversharks, an independent Minor League team in the Atlantic League. The Yankees signed him on May 21. Rivera takes his career day-by-day.

The two disparate players, an intimidating pitcher and a journeyman catcher, will forever be connected because of what happened last Saturday. In Rivera's sixth game with Scranton, he clubbed a homer off Strasburg to help guide the Yankees to a 3-2 win over Syracuse. It's the only homer Strasburg has allowed as a professional this season, a span of 50 1/3 innings.

"I guess," Rivera said, "I hit it pretty good."

When Strasburg makes his debut with the Nationals, he will be about six weeks shy of his 22d birthday. When Rivera made his Major League debut with the Seattle Mariners in 2004, he was 21 years old and two months. Rivera wasn't as highly-touted a prospect as Strasburg (besides Bryce Harper, who is?), but he was a second-round draft pick who received an $800,000 signing bonus and who made it to the Majors at a younger age than Strasburg.

Now, as Strasburg zooms forward in a career that is supposed to be special, Rivera is trying to revive a career that has stalled. Rivera played 53 games in the Major Leagues with the Mariners, but he hasn't sniffed a big-league at-bat since 2006. He hit .233 for the Mets' Triple A affiliate in Buffalo last year. Rivera led Camden with seven homers before the Yankees added him for veteran catching depth. He has mostly been used as a designated hitter.

But, for one glorious night in Syracuse, N.Y., Rivera had a better night than Strasburg. In Rivera's first at-bat against Strasburg, he advanced the count to 3-2. That gave Rivera a chance to see Strasburg's pitches and get a feel for them. What Rivera saw was daunting.

"His fastball was from 95 to 99," Rivera said. "He had a good curveball, a good change-up. Like everybody said, he's one of the best pitchers around."


So how did Rivera conquer Strasburg? Rivera said he felt he "had a chance" to hit Strasburg's fastball, which is exactly what he did. Rivera smacked an opposite-field homer off Strasburg's 98-mile per hour offering. The pitch was down and away, but Rivera hammered it. In Rivera's only other at-bat against Strasburg, he whiffed on a curveball.

"It's tough to compare his stuff to Major League pitchers, but his fastball reminds me of Felix Hernandez," Rivera said.

On the morning after Rivera's memorable homer, I mentioned him to some Yankees. But they were unaware of Rivera. That's not surprising since Rivera had only been with Scranton about a week and is caddying for top prospect Jesus Montero. Besides, there aren't many Major Leaguers who scour the Triple-A box scores.

Before Rivera's homer off Strasburg, I knew little about him. Once I researched Rivera's career and interviewed the man with a .227 average, his story intrigued me. Like the rest of the baseball world, I will closely follow Strasburg. But, because of Rivera's memorable homer, I will also monitor his attempt to climb back into the big leagues.

Strasburg has one more Minor League start against Buffalo, Rivera's old team, on Thursday. If Strasburg doesn't surrender a homer, Rivera will be the only player to bash a Minor League homer off the pitcher who is supposed to become an ace. For someone who is four years removed from playing in the Majors, that's a decent line on an idling resume.