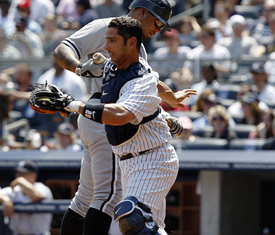 When Jorge Posada marches into the Yankees' clubhouse on Tuesday afternoon, he will search for the lineup that is affixed to the door and he hope he is starting at catcher. Posada is a proud and stubborn catcher, a man who wants his last inning in the Major Leagues to be spent with shin guards strapped around his legs.

Posada returned to his comfortable spot behind the plate for the first time in almost a month on Sunday and belted his second grand slam in two days to help the Yankees stifle the awful Astros. While Posada left the game after eight innings because of soreness in the right foot, he considered it typical soreness from catching and not a serious concern.

Still, when I asked Posada if he expected to start at catcher against the Phillies on Tuesday, he gave an interesting response.

"We'll see," Posada said.

We'll see. That was not the proud, stubborn Posada talking. That wasn't an example of Posada wondering if his sore foot would be OK, either. Posada had stressed that the soreness in his foot wasn't because of the fracture that had put him on the disabled list and was merely from catching so much for the first time since the middle of May.

We'll see. That was the practical, not-so-stubborn (at least publicly) Posada talking. He didn't want to discuss the next lineup because he didn't know what manager Joe Girardi had planned. Does Posada want to catch on Tuesday? Absolutely, he does. But Posada understands that some things have changed around the Yankees, including how Girardi is likely to use him for the rest of the season.

In Posada's absence as the regular catcher, Francisco Cervelli reiterated that he is an energetic and smart catcher, a backup player who can fill in as a starter and be an asset. Cervelli is more athletic than Posada, has a stronger arm than Posada and has a solid rapport with the pitchers. When Cervelli flashes a sign and punches his mitt to encourage a pitcher, it reminds me of a corner man imploring his boxer to go for the knockout.

Because Cervelli has emerged as a more productive player, and because Nick Johnson's wrist injury has left the Yankees without a full-time designated hitter, it is sensible for Girardi to use Posada at DH more than the team had originally planned. I think Posada should catch the bulk of the games, but it would be silly to ignore the potential benefits the Yankees get from using Cervelli at catcher and Posada as the DH.

Posada will be 39 years old in two months and has already endured some nagging injuries this season. If the Yankees want to keep Posada as healthy as possible, using him as the DH two or three times a week will help that goal. Without a reliable DH, the best lineup Girardi can field has Cervelli catching and Posada at DH Girardi linked Posada's calf injury to catching him three straight games, an indication that Posada won't be catching three straight games too often.

"He's going to DH, but he's going to catch, too," Girardi said. "He's not going to DH every day. We need him to catch for us."

After Posada returned from the disabled list and was used as a DH, he went 4-for-30 with one run batted in. He finally emerged from that drought with a grand slam on Saturday. Although Posada dislikes being a DH and has woeful career statistics as a DH (.222 average), he also attributed his sparse output to a troublesome swing . Even if Posada was catching, it might have not mattered because he needed to get the timing of his swing resolved.

Since Girardi benched Posada and had Jose Molina catch A.J. Burnett in the postseason a year ago, he has already conquered a much stickier issue with Posada than this one. Girardi won't be trying to completely bench Posada. He will just be sliding Posada to DH every so often. Proud and stubborn, Posada wants to catch every day. But I think it's logical for the Yankees to use him as a DH sometimes to help him and help the team. How will it unfold? We'll see.