Since A.J. Burnett has labored to throw his fastball in precise locations and has struggled to uncork a consistent curveball, the Yankees have dissected every aspect of his performances to try and determine what is wrong. The Yankees might have discovered one of the reasons that Burnett has been so erratic: he might be tipping his pitches to batters.
General Manager Brian Cashman expressed confidence that Burnett will rebound from a disappointing stretch in which he is 0-4 with a 10.35 earned run average. Yet, the General Manager noted that the Yankees believe the pitcher's problems might have involved "tipping his pitches a little bit." Burnett was blitzed for three homers in the first inning in a 10-4 loss to the Arizona Diamondbacks on Tuesday.
"I just think, in some starts, it looked like the opposing team knew what was coming," Cashman said. "We're working on all the angles. When teams are getting the same kind of hacks against breaking balls as they do against fastballs, it's something you notice."
While Cashman wouldn't specify how Burnett might have been tipping pitches or which starts he might have been doing so, it seems likely that he was referring to Burnett's last start. Burnett surrendered six straight two-out hits, including home runs by Justin Upton, Adam LaRoche and Mark Reynolds, in a woeful first inning. Burnett will start against the Dodgers on Saturday.
It doesn't take much for pitchers to inadvertently tip off batters to what pitch they are about to throw. Some pitchers reach into their glove and take slightly longer to get a grip when they are about to throw breaking balls, which take more finesse to throw than fastballs. If a hitter notices that a pitcher is reaching into his glove, establishing a grip quickly and then throwing it, he might deduce that he is about to see a fastball. If the pitcher takes a millisecond longer, he might be telegraphing a breaking ball.
"Whether I've been trying too hard or everything was speeding up more than I want it to, it comes down to remembering what it feels like to succeed," Burnett told reporters.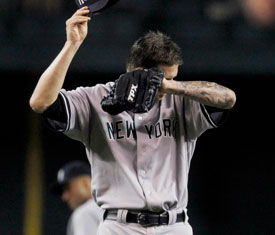 Even if Burnett tipped his pitches in his last start, he also hurt himself by missing location on several pitches. On all three homers, Burnett failed to hit catcher Jorge Posada's target. Burnett looked dumbfounded during and after the inning. The Diamondbacks, who are one of the worst teams in the major leagues, looked very comfortable at the plate.
On a 1-1 pitch to Upton, Posada called for a fastball and set up on the outside corner. Burnett dipped into his glove, pulled the ball out swiftly and fired a 94-mile per hour fastball. Upton clobbered it over the center field fence to give the Diamondbacks a 1-0 lead.
After Miguel Montero and Chris Young both slapped two-strike hits on breaking balls, Posada wanted to start LaRoche with an outside fastball. Once LaRoche entered the batter's box, his eyes were locked on Burnett. He looked like he was reading an eye chart, not merely getting ready to hit. Burnett fired a fastball that was down the middle, not outside, and LaRoche bashed the 94-M.P.H. pitch for a three-run homer. Some batters, like Derek Jeter, love swinging at first-pitch fastball, but LaRoche's swing was ferocious and looked like something out of a batting practice session.
After LaRoche's blast gave the Diamondbacks a 4-0 cushion, Reynolds followed with another comfortable swing. On a 1-1 pitch, Burnett was supposed to toss a curveball that was down and away. But Burnett hung the curve on the inside corner and Reynolds teed off on it. Reynolds, who leads the majors in strikeouts, looked like a slow-pitch softball player as he sized up the pitch and hammered it.
"I don't feel like myself," Burnett said.
Dave Eiland, the Yankees' pitching coach, works more closely with Burnett than any of the other starters. But Eiland hasn't been with the team since June 4 because of an undisclosed personal problem. Eiland's absence has coincided with Burnett's troubles. Cashman declined to discuss Eiland's situation or when the coach might return.
When Manager Joe Girardi was asked if Burnett would be aided by having the consistency that Eiland's presence would bring, he said, "That's our job to investigate why things are going wrong." That investigation has led the Yankees to theorize that Burnett might have tipped his pitches.
If Burnett was tipping his pitches, it will be interesting to see if any modifications in his mound behavior will produce better results. But, if Burnett stopped tipping his pitches and still has difficulty, the Yankees will have to continue dissecting him.
"He's a streaky pitcher," Cashman said. "He's got a complicated delivery. We think he'll find his way through it."