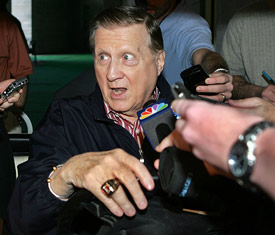 I have tried to look relaxed while sitting in a chair shaped like a baseball glove inside George Steinbrenner's office. I have sat beside Steinbrenner at a black tie dinner. I have chased Steinbrenner through parking lots and stadiums. I have had Steinbrenner bestow a nickname on me.

In 20 years of covering baseball, I did a lot of writing and reporting about Steinbrenner. When you cover the Yankees, you had to cover Steinbrenner. It was almost as critical as covering the team. Before Steinbrenner receded into the background in recent years, a reporter who didn't have access to the principal owner was useless.

After Steinbrenner had a massive heart attack on Tuesday and passed away at the age of 80, I contacted Don Mattingly, Buck Showalter and David Cone to get their recollections about the legendary owner. As I helped interview these men and others on the YES Network, I was riveted by some of their stories. Cone spoke eloquently about Steinbrenner and was so emotional about the loss that his voice cracked at the end of the interview.

Once we finished about six hours of live coverage on Steinbrenner, I tried to remember the last time that I had spoken to him. It happened on Easter Sunday in 2009. Steinbrenner walked by me at a steak house in Tampa. I said hello and so did he. Usually, George would have said more, but he didn't this time. That memory reinforced how I will miss those conversations with Steinbrenner. Specifically, I will miss his calls.

The calls were legendary. When Steinbrenner called you, he didn't say hello. At least he didn't say hello to me. The recognizable voice would simply say, "It's George." Steinbrenner would almost sound disinterested, as if he really didn't want to talk to you. But, quite often, he did want to talk. He might want to talk about his manager or a struggling player. I always tried to extend the interview as long as I could. The longer Steinbrenner spoke, the more likely he was to say something that would produce a provocative article.

The three most magical words a Yankee writer could say to an editor were, "I got Steinbrenner." But, once writers said that, editors typically asked, "Did you get him alone?" This was a tricky question. When I was at The New York Times, Steinbrenner routinely told me that I was the only writer whose call he was returning. But, a day later, I would read my competitor's articles and see that Steinbrenner had called them back, too, and made similar comments.

I will be honest. It's easy to say now that I will miss Steinbrenner's calls. I didn't love making those calls when they kept me chained to a hotel room during the season or kept me chained to my desk during the offseason. Since I started covering the Yankees before there were cellular phones, I couldn't leave my room after calling Steinbrenner. If I needed a bucket of ice, I had to sprint from my room to the ice machine. If Steinbrenner called while I was out, that ice run would be the costliest 45 seconds of my week.

Because covering Steinbrenner was so essential to covering the Yankees, I remember how beat writers danced around discussing whether Steinbrenner had called us back. If we were on the road and another writer asked me to go to lunch, I would tell him I was busy waiting on something. I didn't need to say anything else. But, if there was one writer who was persistent about trying to arrange lunch with the other writers, that probably meant he had already interviewed Steinbrenner.

While I disliked being held hostage to one of Steinbrenner's calls, the angst has lessened with time. I'd compare covering Steinbrenner to running a marathon, which I've done twice. Throughout the 26.2 mile race, there were many times where I hated it and wanted to quit. But, once the race was over, I felt a sense of accomplishment. That's what it was like covering Steinbrenner, especially if you secured information that no one else had.

Oh, yes, the nickname. One of Steinbrenner's calls also yielded my unexplained nickname. For some reason, George started calling me Jackson, something I'd never been called and something that made me sound more like the newspaper boy than a newspaper reporter. I told a few baseball writers how George had inexplicably dubbed me Jackson and they have never forgotten it.

Several months ago, a writer tried to imitate Steinbrenner's voice while calling me Jackson in a phone message. It was a terrible imitation. It wouldn't have mattered if the imitation had been better. I knew Steinbrenner wasn't returning calls anymore. On Tuesday, he passed away. So many people have memories. So many reporters, like me, will remember the calls.