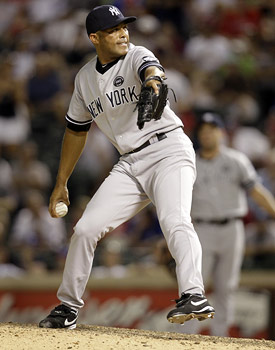 Sometimes, Mariano Rivera's greatness in the most delicate job in baseball is taken for granted. Rivera is so superb and so precise that he is expected to be unhittable. Not just effective, but excellent. Sometimes, Rivera's prolonged excellence even baffles the people who have watched him the longest.

"Can you believe what Rivera is doing?," asked Gene Michael, who was the Yankees' general manager when Rivera debuted in 1995. "He just keeps getting better. How do you do that?"

As a baseball lifer who was a player, a coach, a manager, a general manager and an adviser for the Yankees, Michael has scouted hundreds of players. He has never seen someone as good at what he does as Rivera is as a closer. I haven't seen as many players as Michael, but I agree with him. I've never seen a player who dominates the way Rivera dominates.

Rivera was his usually sturdy self in a pulsating 7-6 win over the Rangers on Wednesday night. One night after the Rangers conquered Rivera, Rivera pushed back. After Elvis Andrus opened the ninth with a triple, Rivera exhaled and applied a sleeper hold to the Rangers. Andrus, who had celebrated as if he had won the lottery upon reaching third, never budged past there.

That's because Rivera retired Michael Young on a pop out to right field. Although Rivera started with a 2-0 count against Josh Hamilton, he knew he had to continue pitching inside so Hamilton couldn't extend his arms. It worked as Hamilton tapped a ball to Rivera. Then Rivera retired Vladimir Guerrero on a groundout. Three very good hitters, three very important outs, one incredible closer.

"That's Mo," manager Joe Girardi said.

There will come a time when Rivera will no longer pitch for the Yankees and the journey to get the final outs will become much more perilous for them. Since Rivera succeeded John Wetteland as the closer in 1997, he has given the Yankees an edge in the most critical part of the game. Rivera is the best security blanket in baseball. The Yankees are 61-0 when leading after eight innings this season.

"When Mo comes in," Derek Jeter said, "we feel like the game's over."

Even if Michael is ordering breakfast, he speaks like a scout. So, when Michael discussed Rivera, he dug into his memory bank to offer his scouting report on Rivera from 15 years ago. Michael said that Rivera threw a straight fastball that averaged 88 to 91 miles per hour, a nice slider and a solid changeup. Rivera had a smooth motion and Michael said that enabled his pitches "to be right on the hitter."

Michael was puzzled when Rivera's fastball suddenly exploded to 95 MPH while Rivera was fashioning a scoreless streak of 20 2/3 innings at Class AAA Columbus. The GM figured the radar gun readings were erroneous. Once Michael discovered that Rivera's gun readings were accurate and that Rivera's fastball was a better weapon, he summoned Rivera to the Major Leagues for the second time in July of 1995.

"We pitched him in a day game in Chicago," Michael said. "His ball moved so much that we thought they'd have trouble seeing it."

The Yankees were right as Rivera struck out 11 across eight shutout innings to quiet the White Sox, 4-1 on July 4. I covered that game and remember thinking that the Yankees had discovered a stellar starter. But I was incorrect. Eventually, the Yankees would learn that they had discovered a great closer, the greatest of all-time.

"I know I can pitch up here," Rivera said that day. "No doubt about it. They have to hit me. They didn't."

Michael marveled at how Rivera inadvertently developed a cut fastball while playing catch with Ramiro Mendoza in the summer of 1997, and how that became his trademark pitch in 1998 and beyond. Rivera still relies on the cutter, which Jim Thome called "the single best pitch ever in game," most of the time, but he has mixed in more two-seam fastballs this season.

According to fangraphs.com, Rivera's cutter has averaged 91.1 MPH and he has thrown it 84.5 percent of the time in 2010. His two-seamer is a mile faster and he has uncorked it 15.5 percent. Last year, 92.9 percent of Rivera's pitchers were cutters. He will be 41 years old in November, but he is still evolving as a pitcher and still mesmerizing hitters and onlookers.

"Who would have thought Rivera would still be doing this?," Michael said.

That doesn't matter. What matters is that Rivera is still doing it. The Yankees know that they should never take that for granted.