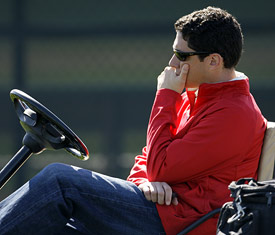 Your favorite team always has the most question marks and the most flaws. Why? Because you analyze your team more than you scrutinize the opponents. You know more about your team than you know about any other team. It is natural to fret.

When Yankee fans lament the status of their team, I often tell them exactly what I wrote in the first paragraph. Study the full landscape. Every team has problems, but fans typically believe that their team has more problems than anyone else. That's not always true, especially with the Yankees. Still, I don't blame fans for worrying. That's one of the prerequisites for being a fan.

As the Yankees prepare to begin a three-game series against the Rangers in Arlington, Texas, on Friday night, I wondered what it must be like to be a Rangers' fan these days. The Rangers are having a stellar season and, despite a recent drought, they should win the American League West. If the Rangers win the division, they will make their first postseason appearance since 1999.

While a division title would definitely be a reason to celebrate, I'm certain there are Rangers fans that are nervous about what might happen after that. Cliff Lee, who was supposed to be a savior, has a stiff back and hasn't pitched since August 31. Lee is scheduled to start on Sunday, but the Rangers won't know if he is healed until he actually works deep into games.

"He threw a bullpen today and had no issues," said Jon Daniels, the Rangers' general manager on Thursday night. "He's set to go on Sunday."

Imagine how chaotic it would be in Yankeeland if CC Sabathia had a stiff back? There wouldn't be enough sports talk radio stations to handle the panicky calls. Lee, who is 2-5 with a 4.69 earned run average since the Rangers acquired him from the Seattle Mariners, is the pitcher who is expected to at least match Sabathia if Texas and New York meet in the Division Series. But will Lee be healthy enough to do that?

Lee exacerbated the situation by not immediately telling the team that his back was bothering him. The Rangers have had a comfortable lead so it would have been sensible for Lee to be honest about his pain and to have more time to be ready for the post-season. Nolan Ryan, the Rangers' president and owner, told The Dallas Morning News that he was "disappointed" with Lee's behavior.

When Brian Cashman, the Yankees' general manager, failed in his attempt to acquire Lee from the Mariners, he explained why he would have been willing to trade Jesus Montero, the organization's top prospect.

"There are a few elite pitchers who you expect to win every time they go out there," Cashman said. "Cliff Lee is one of them. CC is one of them, too."

As of today, Sabathia is still one of those pitchers. But Lee, who was 4-0 with a 1.56 ERA for the Phillies in the 2009 postseason and beat the Yankees twice in the World Series, isn't one of them right now. Lee has to prove he can be that premier pitcher again or the postseason will get muddier for the Rangers. C.J. Wilson, a converted reliever who is 14-6 with a 3.10, would be an accidental ace.


Of course, the Yankees have injury issues and pitching issues, too. Andy Pettitte hasn't pitched since July 18 because of a strained groin. Pettitte will probably make one more Minor League rehab start before returning to the Yankees. Cashman said the Yankees don't know who will follow Sabathia in their rotation if they make the playoffs, but it would probably be Pettitte, Phil Hughes and A.J. Burnett.

Still, as effective as Pettitte has been this season, there is a difference between him being hurt and Lee being hurt. Even if Pettitte was healthy, he wouldn't start Game 1. That is Sabathia's domain. If Lee is healthy, he would start the opener and would make two starts in a five-game series. Ryan said he expects Lee to "be back to his old self" against the Yankees. That is of paramount importance for the Rangers.

Pettitte's successful return is crucial for the Yankees, too. Besides Pettitte's return, the Yankees must hope that Hughes will become more adept at finishing off hitters and that Burnett, who is 1-6 with a 6.91 since August 1, can rebound and be trusted. Ivan Nova is a wild card to start in the postseason, but Cashman said he is hesitant "to put those expectations on him."

There are other questions for the Yankees to ponder. Will Derek Jeter emerge from an endless funk? Will Jorge Posada's concussion scare remain just a scare? Can the bullpen, which has been superb for almost two months, continue to thrive? All of the questions are relevant, but, like the Rangers with Lee, the most serious question swirling around the Yankees is about their uncertain rotation.

One subject that could hover over the Rangers, but not the Yankees, is the past. If the Rangers oppose the Yankees, they will repeatedly be reminded that they lost to New York in the first round in 1996, 1998 and 1999. Darren Oliver is the only current Ranger who played in the 1996 series, but that doesn't matter. The 2010 Rangers will be judged by how they performed this season, but they also must overcome what those other Texas clubs couldn't.

Cashman and Daniels declined to offer much insight about the postseason because their teams haven't clinched spots yet. That's not surprising. Worrying is a prerequisite for their jobs, too, because they need to be ready if something goes awry. The general managers know their teams have flaws. They just hope those flaws aren't exposed and aren't as glaring as the other team's flaws.

Follow Jack Curry on Twitter.