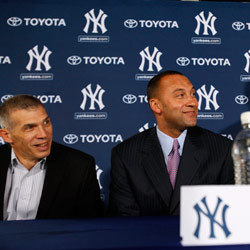 TAMPA – Ask Derek Jeter where he will be eating dinner and he might say, "A restaurant." Ask Jeter where he plans to travel on vacation and he might say, "Someplace warm." Ask Jeter to describe a conversation with a teammate, a conversation 50,000 people saw, and he might say, "I don't remember it." For Jeter, dispensing a modicum of information is a sound strategy.
Throughout Jeter's successful career, he has been the master at protecting his privacy. Jeter is politely evasive, routinely declining to discuss injuries, insults or innuendo. At the beginning of Jeter's career, he decided that he never wanted his own words to create trouble. So Jeter has been selective about what he will discuss, a shrewd way to avoid controversies.
But Jeter wasn't able to keep his compelling negotiations with the Yankees from seeping into the news media, a development that annoyed him. When the Yankees formally announced Jeter's new contract Tuesday, it took Jeter less than two minutes to cite how disappointed he was that some details of his talks had been publicized.
"From my understanding, it was supposed to be a private negotiation," Jeter said. "That wasn't the case. So, yeah, I was angry that some things had gotten out, especially how things were portrayed because, from my understanding, it was a negotiation."
Jeter agreed to a 3-year, $51 million contract that includes a fourth-year player option for $8 million. Before the sides settled on this deal, Jeter had been seeking a four or five year deal for about $23 million a year. Jeter said he was perturbed with how he "was portrayed," and that his reported salary requests were "pretty much inaccurate." But Jeter also declined to reveal specifics about the negotiations.
As careful as Jeter is about his words, it was notable that he expressed his disappointment in such a public manner. With Hal Steinbrenner, the Yankees' managing general partner, to Jeter's left and General Manager Brian Cashman to Jeter's right, the 36-year old shortstop offered his assessment of the negotiations. Jeter said it wasn't an enjoyable experience. The Yankees seemingly concurred.
"There's no doubt there were times it was difficult," Steinbrenner said. "Any negotiation can get messy."
These negotiations began to get tidier after Casey Close, Jeter's agent, contacted Steinbrenner last week and the two sides met here. The Yankees emphasized how much they wanted Jeter and Jeter stressed how much he wanted to be a Yankee. The sides agreed to be creative in trying to eliminate the financial stalemate. Cashman said that resulted in Randy Levine, the Yankees' president, formulating the incentive package that was part of Jeter's deal.
"I think once we sat down face to face last week and really decided that enough was enough as far as the media and what was happening up there – that wasn't good for anybody- we hammered it out," Steinbrenner said.
Cashman acknowledged there was "some turbulence" during the negotiations, but, unlike the wounded Jeter, Cashman likened the back-and-forth chatter to a family squabble.
"Even brothers and sisters fight," Cashman said. "But, at the end of the day, we all got where we wanted to be, which is him running out to play shortstop for us."
Jeter has always insisted that he is concerned with how the Yankees do and doesn't focus on personal milestones. After Jeter allowed himself one day to talk about the negotiations, he would be wise to return to that same team-first approach. Forget about the personal gripes and get back to the team stuff. Jeter has probably already starting doing that.
As Jeter explained how pleased he was to be a Yankee, he softened a bit and noted how there are "things that go back and forth" during negotiations. Jeter said the only thing that would have upset him was if he wasn't with the Yankees. That is a development no one could have envisioned, no matter how turbulent it got.
"Of course I need the Yankees," Jeter said. "And I'd like to think they need me as well."