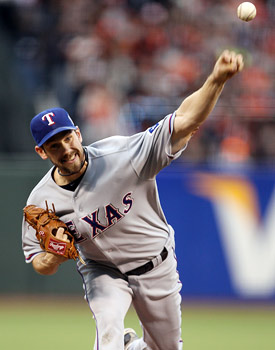 LAKE BUENA VISTA, Fla. – General manager Brian Cashman fired a football to Billy Eppler, his assistant, in the Yankees' hotel suite on Monday. Eppler whipped it back as the two men shattered the rules about playing indoors with a ball and acted like kids for a few minutes. It was a brief respite from their serious offseason pursuit of a specific left-handed thrower.

A few feet from where Cashman and Eppler imitated Drew Brees, the Yankees had laptops and piles of paper resting on a long table. Somewhere in that mix, there was undoubtedly information about Cliff Lee, not that the Yankees needed any updated information on a superb pitcher they are chasing.

The Yankees have really been chasing Lee since July, when they thought they had acquired him from the Seattle Mariners. Now the Yankees have locked their focus on Lee at the winter meetings and seem prepared to give him a six-year contract. It is uncertain how much the Yankees are willing to pay him, but it is likely to be at least $140 million. The New York Post reported that the Yankees might go as high as $150 million.

When I asked Cashman if he knew the maximum proposal that he would make to Lee, he said that he did. Of course, he wouldn't reveal that amount during an interview on the YES Network, but the Yankees aren't delusional about Lee's hefty price tag. The Rangers are also pursuing Lee, although it seems unlikely that they will make a six-year offer. Cashman seems willing to do that.

"We're going to take advantage of the time frame while we're down here, meeting with him as many times as necessary to make it hard for him to go anywhere but choose New York," Cashman said.

As Darek Braunecker, Lee's agent, stood in the lobby of the Walt Disney World Dolphin hotel on Monday, he was in a jovial mood. Why wouldn't he be? Braunecker is representing the jewel of the free agent class, an elite pitcher in a free agent market that has no pitchers like him. The Yankees don't want to have a Plan B if they fail to sign Lee because any Plan B would be a major disappointment.

"It's good to be Cliff Lee," Braunecker said.

Cashman met with Braunecker in his suite on Monday and will surely speak to the agent again on Tuesday. As part of Cashman's courting of Lee, he visited the pitcher in Arkansas. Braunecker joked that Cashman "offered to come back as many times as necessary." Perhaps Braunecker wasn't joking. Maybe Cashman would rent an apartment in Lee's home state if that helped him secure Lee.

Two years ago, Cashman bolted from the winter meetings in Las Vegas and visited CC Sabathia at Sabathia's home in California. Cashman said that he wasn't going to leave until Sabathia had agreed to a contract, which Sabathia did when the Yankee offer mushroomed to seven years and $161 million. Sabathia later told teammates that he wasn't expecting the Yankees to add a seventh year.

I don't think Cashman will offer Lee a seven-year contract, even though there has been speculation that another team might do that. But I don't think the Yankees will have to offer Lee seven years to secure him. Several baseball executives agreed, saying that the Yankees will probably sign Lee to a six-year deal.

As Cashman stood in his suite on Monday, I asked the GM if he thought Lee would sign a deal before the meetings ended on Thursday. Cashman wasn't sure. Cashman said he would "love to be in a position to say, 'Hey, Cliff Lee is going to be a New Yorker," but he wouldn't predict if that will happen. For now, Cashman is still chasing Lee, the pitcher he's been chasing for a while.

Follow Jack Curry on Twitter.