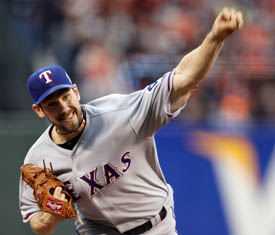 LAKE BUENA VISTA, Fla. – The Yankees intensified their pursuit of Cliff Lee on Wednesday by making a lucrative offer to the free agent pitcher. General Manager Brian Cashman disclosed that he had made the offer, but he wouldn't be specific about it. The Yankees probably offered Lee a six-year deal for about $140 million.
Soon after Darek Braunecker received the offer, he left the Winter Meetings and returned to Arkansas to meet with Lee. Was Braunecker's departure a promising sign for the Yankees? The Yankees hope so. Cashman had been frustrated by the sluggish pace of the negotiations with Braunecker. Now Cashman and the Yankees will wait to hear from Lee.
"This," Cashman said, "is someone who is worth the wait."
Even though Braunecker officially received Cashman's offer, he has known that the Yankees would likely be willing to offer six years for about $140 million because the two sides had discussed parameters. The Yankees' offer is slightly more than Johan Santana's six-year, $137.5 million package with the Mets in 2008.
While several baseball officials believe the Yankees and the Rangers are the teams with the best chance to sign Lee, Braunecker said he has "significantly more" teams involved. There have been reports that two teams have made seven-year proposals to Lee, but no team has acknowledged making them. Cashman wouldn't say if he believed Lee had any seven-year offers.
Privately, the Yankees also believe that the quest for Lee is between them and the Rangers. Braunecker might have been meeting with other teams here to try and persuade the Yankees and the Rangers, the two favorites, to bid even more for Lee. An executive from one of Lee's former teams said the Angels, who are poised to spend lavishly after a disappointing 2010, could also be lying "in the weeds" in pursuit of Lee.
While Cashman has waded through the Lee negotiations, he has also shown some interest in Carl Crawford. Cashman had dinner with Crawford's agents on Tuesday, which could be interpreted as a bluff. When Cashman was asked about Crawford, he said that he has "cast a wide net" in his pursuit of players.
Until the Lee situation is resolved, Cashman conceded that he is restricted in the moves that he can make. Cashman said that he feels like "Hannibal Lecter in a strait jacket right now waiting on this Cliff Lee thing."
The Yankees are also waiting on Andy Pettitte's decision about 2011. Pettitte called Cashman on Wednesday and told the GM that he was still undecided retiring or pitching and stressed that he didn't want to prevent the Yankees from making other personnel moves. It sounded like Pettitte was closer to retiring than pitching.
"He's not made a decision to retire," Cashman said. "If I had to bet at some point, I think he'd play. He's telling me right now he's leaning the other way."