BRADENTON, Fla. –- The baseball scout in the white hat, brown shirt and tan pants positioned himself behind the plate and scribbled notes during the Yankees-Pirates game. He watched every pitch, every swing and every movement. But was the man also studying the Yankees to collect information for a possible trade?
The scout was Terry Ryan, who is a senior adviser to the general manager for the Twins and who used to be their GM. Since there has been speculation that the Yankees might be interested in acquiring Minnesota left-hander Francisco Liriano, it seemed possible that Ryan was focusing his experienced eyes on the Yankees. Just in case.
As intriguing as Ryan's presence was, Ryan insisted that he wasn't scouting the Yankees. When I approached Ryan, he said that he wasn't here to scout the Yankees and explained how the Pirates were one of the teams he is covering this spring. When I asked follow-up questions about the Yankees, Ryan repeated that they were not on his agenda.
"We have people on them," Ryan said. "I'm not."
Was Ryan's response as innocent as it sounded? Apparently. General Manager Brian Cashman spent most of the offseason inquiring about every front-end-of-the-rotation starter, including buzzing the Twins about Liriano, but he hasn't had any substantive conversations with them recently. ESPN.com first reported that Cashman had asked the Twins about Liriano during the winter.
"I have no talks going on with the Twins," Cashman said. "Zero talks. There's nothing going on. I would love to be able to talk to people, but there's nothing of quality that's available."
Liriano is an interesting and talented pitcher, a 27-year old who was 14-10 with a 3.62 earned run average and 201 strikeouts and 58 walks in 191 2/3 innings a year ago. He will earn $4.3 million in 2011 and can't become a free agent until after 2012. If the Twins are serious about contending, why would they think about trading their best pitcher?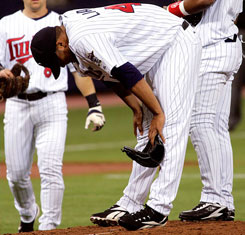 Still, according to an article in the Minneapolis Star-Tribune last month, the Twins might be receptive to dealing Liriano because it is unlikely they will sign him to a long-term deal. If I were the Yankees or any team, I'd be suspicious about why the Twins, an organization that is known for being shrewd at talent evaluation, would be willing to trade a left-handed ace. The Twins have six starters competing for five spots in the rotation, but two of them (Nick Blackburn and Scott Baker) had elbow surgery in the offseason. The uncertainty surrounding Blackburn and Baker would appear to make it even more unlikely that the Twins would part with Liriano this early.
Acquiring Liriano would instantly upgrade the Yankees' rotation, as long as he stayed healthy and was something close to the pitcher he was in 2010. Liriano, who was 5-13 with a 5.80 E.R.A. in 2009, underwent Tommy John surgery in 2006 and has been viewed as a potentially brittle pitcher. Because Liriano has a violent pitching motion and is so dependent on his slider, the Twins have privately wondered if he might get hurt again. The Twins have no plans to re-sign Liriano and he's a future injury risk, which are the reasons they might eventually try and move him.
Cashman is confident the Twins will contact him if Liriano becomes available, but the Yankees won't include Dellin Betances or Manny Banuelos , their two premier pitching prospects, in any trade. Andrew Brackman, who is the organization's third-best pitching prospect, is another player the Yankees would be reluctant to move.
USA Today's Bob Nightengale has tweeted that the Twins are monitoring Ivan Nova and Joba Chamberlain as possible trade pieces. Neither pitcher appeared in Tuesday's game. While Cashman declined to say if he would include those two in a deal for Liriano, he raved about Nova. Cashman was prepared to include top prospect Jesus Montero in a possible deal with the Mariners for Cliff Lee last July, but recalled how he wouldn't include Nova.
"There's a reason I wouldn't trade Nova when I had those discussions with Seattle last year," Cashman said. "I was already going to give them a middle-of-the-order hitter. I wasn't going to give them a guy who projects as a No. 3 starter, too."
Liriano is better than a No. 3 starter, but, right now, the Yankees don't believe he is even available. So Cashman will wait to see if Liriano becomes available and then figure out if the price tag on players is acceptable. Cashman doesn't expect his phone to ring anytime soon.
"I think all of our pitching answers are going to come from within," he said. "I don't think we're going to be able to do anything until after the draft [in June]. That's usually the way it works."

Follow Jack Curry on Twitter