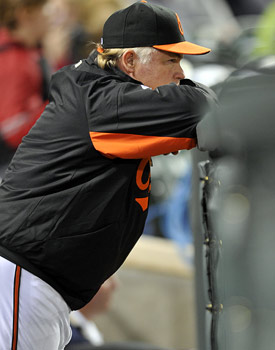 The first time I introduced myself to Buck Showalter, he was reading a baseball publication. I don't remember which one. Maybe it was Baseball America. But that's irrelevant. What is relevant is that Showalter was immersed in baseball from the moment we first shook hands in 1991. He still is.

Showalter's latest baseball immersion involves trying to transform the once-proud Baltimore Orioles into a proud franchise again. The Orioles haven't had a winning season since 1997 and the fans that used to make Camden Yards one of the premier places to watch a game don't flock there as readily anymore. It's a challenging chore, which means Showalter is perfect for the manager's job.

When the Yankees oppose the Orioles on Friday night, the most observant person on the field will be Showalter. He will watch Derek Jeter and Alex Rodriguez take batting practice. He will determine if the Yankees are pitching any of his hitters differently than they did last week and he will notice where manager Joe Girardi positions himself in the dugout.

Did Showalter tell me he would do these things? No, but, if you have covered Showalter as regularly as I have, you know it's inevitable that he will do those things and a lot more to prepare for a game. I can't think of a more observant person. Showalter is the type who will break away from a topic to say, "I've never seen you wear jeans to the ballpark." And he would be right.

Just because Showalter is observant, prepared and competitive doesn't mean that the Orioles will even be a .500 squad. The Orioles have promising young pitchers in Zach Britton, Jake Arrieta, Brian Matusz and Chris Tillman, who are all 25 or younger, and a competent starter in Jeremy Guthrie, who is 32, but Showalter realizes the youngsters have to prove they can succeed in the American League East. Young pitchers can delight or depress, especially when they face lineups where Curtis Granderson hits eighth.

Showalter thinks Matt Wieters will be an All-Star, thinks Nick Markakis is a superb hitter, thinks Brian Roberts is a talented and feisty leader, and thinks Adam Jones is another talent who has displayed a renewed work ethic. Still, even with those players and the additions of Vladimir Guerrero, Derrek Lee and Mark Reynolds, the Orioles don't have as formidable a lineup as the Yankees or the Red Sox. Those are two of the teams the Orioles need to surpass to someday crawl into the postseason. That is quite a challenge, but, eventually, that is Showalter's goal.

Before the Orioles hired Showalter to his fourth Major League managing job, he had been out of baseball for three and a half years. That is illogical to me. How could someone as talented as Showalter be absent from a dugout for that long? Showalter has controlling tendencies, a rigid approach that has helped him and hurt him in previous organizations.

But, if you were operating a franchise, wouldn't you want a manager who wanted to be in control and who cared about the team as much as you did? Showalter is that manager. In two decades of covering baseball, I'd say Showalter cares as much about winning as anyone I've ever covered. That desire causes Showalter to work to prepare his players to perform at the highest level. The Orioles don't have the most talent in the AL East, but Showalter has squeezed a lot out of them. While the Orioles are 8-10 this season, they finished 34-23 under Showalter in 2010.

Since I became the Yankees' beat writer for The Times at the All-Star Game break in 1991, Showalter, who replaced Stump Merrill in 1992, was the first manager I covered for a full season. From the beginning, it was evident how much effort he put into trying to do the job the proper way. I didn't agree with everything Showalter did, but he always had a plan and always had a reason for doing it his way.

I remember how disappointed Showalter was with the work stoppage of 1994 because he thought the Yankees could have won a championship. Anyway, one of my cooler memories from that aborted season was when Showalter let me hang out in his managerial world. I convinced Showalter, who analyzes the videotapes of games, to watch the replay of a game with me and have him explain his decisions. A manager makes dozens of choices in a game. I wanted to know why Showalter did what he did.


Across two hours of playing the tape, re-winding it and playing it again, Showalter reinforced why he is a savvy baseball man. Todd Van Poppel was pitching for the Oakland A's in the game in mid-July. In the first inning, Showalter detected that Van Poppel was tipping off his fastballs. If Van Poppel nodded yes to the sign, shook no and nodded yes again, he was set to throw a fastball. Showalter told me Van Poppel was saying yes to a fastball, no to a certain location and yes to the next location. Then Showalter said he surmised this because catchers don't give a specific location with breaking pitches.

One inning later, Sterling Hitchcock, the Yankees' starter, walked Scott Brosius. In two other instances that season, the A's had attempted steals after the Yankees made two pickoff attempts. So Showalter instructed Hitchcock to throw to first a third time. It worked. Hitchcock picked off Brosius.

When Danny Tartabull opened the third, he walked to the plate with Showalter's instructions swimming in his cranium: Be prepared for a first-pitch fastball. It is easy for anyone to find a pitcher's pattern on the Internet these days, but Showalter was armed with that crucial information back then. Van Poppel threw a first-pitch fastball and, sure enough, Tartabull blasted it for a homer. Through three innings, Showalter had a profound impact on the game.

During that session, I learned how Showalter managed and it helped me to sometimes think like a manager from the press box. When I spoke with Showalter at Yankee Stadium last week, he continued the education by mentioning two subtle changes the sport could make. I should let him reveal them, but I think he's right about both. From our first meeting until our last, Showalter is still immersed in baseball.

Follow Jack Curry on Twitter: @JackCurryYES