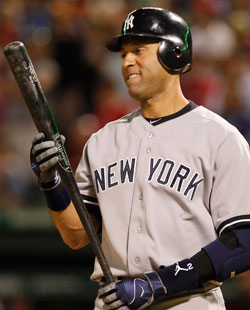 Nine days ago, Derek Jeter was hitting .250. He had 23 hits in his first 92 at-bats, about half of them infield hits. As Jeter got ready for a Sunday game with the Blue Jays, I asked him a few questions by his locker. I was curious to know if Jeter felt better about his much-dissected swing, if he had made any adjustments, and how quickly he expected that .250 beside his name to turn into a thicker number.
When I mentioned Jeter's career average of .314 during one of my questions, Jeter offered an interesting response. He didn't answer the question. Instead, he honed in on the shiny statistic that I had cited and supplied his perspective.
"If I go 4-for-4 in the next two games, I'll be there," Jeter said. He was basically correct; if he went 8-for-8, he would have collected 31 hits in 100 at-bats, boosting his average to .310.
While Jeter's analysis was accurate, I was surprised he made that comment. I've covered Jeter since the Yankees drafted him in 1992, and he has always been the anti-Pete Rose, a player who isn't obsessed with his numbers. Jeter wants the team, not himself, to be the focus.
Maybe someone told Jeter that he was an 8-for-8 performance away from being a .310 hitter again. Maybe it was a relative, a friend or a team official. I can't imagine Jeter punching numbers into a calculator to determine his average. Unless a reporter brings up a personal statistic, Jeter isn't the type of player to spout his own numbers.
A week after our interview, Jeter had one of those four-hit games that he had referenced when he bashed back-to-back homers and went 4-for-6 in a 12-5 thrashing of the Rangers last Sunday. It was Jeter's most productive day of the season. He displayed serious power in drilling one homer to right-center field and the other to center. He had three extra-base hits in his last two games in Texas, one more than he had notched in his first 112 at-bats.
"You can't make too much of what's happened in the last two weeks," Jeter said during our interview on May 1. "We don't think that way."
Jeter's message was clear: No matter how many people wanted to focus on his first 92 at-bats, Jeter couldn't and wouldn't do that. Jeter could be 0 for his last 92 and would still believe that he was the best player to hit in the most important point in a game. That confidence, that impenetrable belief, has helped make Jeter a future Hall of Famer. But, given that seven out of every 10 balls that Jeter put into play were grounders, he didn't perform like a player who should be hitting in the most crucial spots.
One of the reasons Jeter has been so successful in New York is that he has the uncanny ability to eliminate the clutter that can crowd a player's cranium. Jeter prefers to keep it simple. Play nine innings of baseball, win the game (hopefully), answer a few questions and go home. Sometimes, like last season and the opening weeks of this season, it's hasn't been so seamless. For Jeter, there's been more clutter.
Since the first day of Spring Training, Jeter has had to answer questions about his new, no-stride approach to his swing. If it were up to Jeter, he would have preferred to make that adjustment without anyone noticing and without having to discuss it. In the first week of the season, Jeter abandoned the revision. And, when Jeter didn't hit, the questions kept coming for him, for manager Joe Girardi and for Kevin Long, the hitting coach. More clutter, in Jeter's mind.
The list of shortstops that have been productive at the age of 37, which Jeter will turn next month, is slim. It includes Ozzie Smith and Honus Wagner and little else. But last month, when I spoke to Orioles manager Buck Showalter, he theorized that Jeter was getting more scrutiny than other players. I told Showalter it was linked to Jeter's career-worst .270 batting average in 2010, and to the fact that Jeter is one of the most popular Yankees ever. Jeter's play, good or bad, will always attract more attention.
"Do you really think this guy isn't going to come through?," Showalter asked. "We'll see."
Yes, we'll see. Entering Tuesday's game with the Royals, Jeter was batting .276 with two homers and nine runs batted in. His statistics were rosier than the numbers compiled by Dustin Pedroia (.237, two homers, 10 RBI) and Justin Morneau (.212, one homer, nine RBI), two former Most Valuable Players.
Jeter has hit over .300 in 11 of his 15 full seasons and has hit at least .291 in three of the other seasons. Without even asking Jeter recently, I know he still believes he will hit .300 in 2011 and beyond. That's how Jeter thinks. That's how he will always think.
Nine days after Jeter supplied the math regarding his average, I'll do the math for him this time. If Jeter goes 3-for-3 in his next two games, he'll be hitting .310. I doubt Jeter will talk about his numbers, but, in a season that has been onerous for him, I do wonder if he knows those numbers better than I thought.
Follow Jack on Twitter: @JackCurryYES