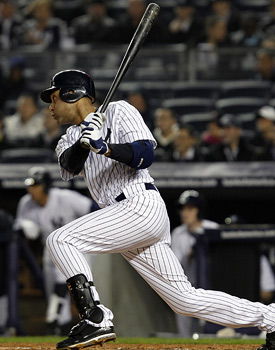 Derek Jeter was on the field by 3:30 on Tuesday afternoon, which is more than an hour earlier than he normally saunters out of the clubhouse. Jeter, a creature of habit, played the early bird to tape two public service announcements and to do two interviews, one with Nomar Garciaparra for ESPN and one with me for the YES Network.
Jeter knew what was coming. The questions weren't going to focus on the Yankees or the Red Sox. On this day, the questions were about Jeter's pursuit of 3,000 hits. When I asked Jeter what could lie beyond 3,000 and if he thinks 3,500 hits could be attainable, he wasn't ready to predict the future.
"Let me get to 3,000," Jeter said. "I'm not even to 2,990 yet."
After Jeter smacked a single off Josh Beckett in a disheartening 8-3 loss to the Boston Red Sox on Thursday night, he is at 2,990. Now the countdown to 3,000 is at 10. If Jeter can collect 10 hits across the next seven games at Yankee Stadium, he could celebrate becoming the first Yankee to reach the 3,000 plateau and could do it in front of the home fans. If not, Jeter will take his pursuit on the road to Chicago.
One of the romantic aspects of baseball is that it doesn't have a clock. The game is timeless with both teams trying to score more runs than the other before using up 27 outs. But, as Jeter chases 3,000, he is on the clock. The clock is the calendar. Jeter has seven games in seven days to get those last 10 hits and enjoy the milestone with about 50,000 of his closest buddies at the Stadium.
Can Jeter get 10 hits in seven games? Of course he can. But it's not a simple task. If a player averaged 10 hits in every seven games for a 162-game season, he would notch 231 hits. In the last 20 years, only Ichiro Suzuki (three times) and Darin Erstad have had that many hits in a season. While Jeter simply needs to have a productive week at an opportune time, not a full season of averaging 1.43 hits a game, getting those hits on demand can be a difficult chore.
When I interviewed Jeter, he was in a playful mood. He hugged Garciaparra, his old counterpart with the Red Sox, on his way to our interview. Jeter eased into a director's chair in foul territory behind first base and cracked a joke before I could even finish my first question. By the way, this interview with Jeter will be part of a feature that will air on YES after the game in which he becomes Mr. 3000.
During the interview, Jeter talked about some of his memorable hits, from his first to his 2,000th. Jeter's 2,000th hit wasn't artistic. In 2006, he hit a dribbler off Kansas City's Scott Elarton. Paul Bako burst out from behind the plate to field it, but he fired it past first base. As Jeter cruised into second, everyone waited to see if it would be ruled a hit or an error. Television cameras showed Dorothy, Derek's mother, turning to Charles, Derek's father, and saying, "Error." It was ruled a hit.
"Good thing my mother wasn't the official scorer," Jeter joked.
Jeter stressed that "there are no cheap hits" so he didn't care that his 2,000th hit never left the infield. But, when I asked Jeter if he would mind if his 3,000th hit was just as modest, he balked. Since Jeter's 3000th hit will be re-played again and again, he said he wants it to be "a clean hit."
Jeter added that he can't be picky about the type of hit he gets. The same is true about where he gets the hit. But Jeter wants it to be a solid hit and he wants to do it at the Stadium. He has a week. The calendar is ticking.
Follow Jack Curry on Twitter: @JackCurryYES