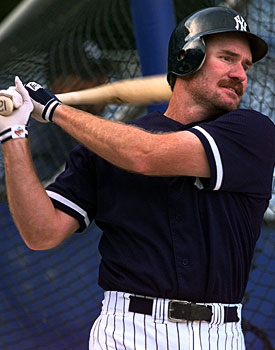 When Derek Jeter made his debut at shortstop for the Yankees on May 29, 1995, Wade Boggs was standing about 40 feet to Jeter's right at third base. Boggs was a five-time batting champion who was known for being a smart, selective hitter. Jeter studied Boggs because Jeter studied everything.
The Yankees signed Boggs from the hated Red Sox before the 1993 season because general manager Gene Michael wanted players who valued on-base percentage. Long before Billy Beane and "Moneyball," Michael and Manager Buck Showalter desired batters like Boggs, hitters who understood the importance of extending at-bats. One of Boggs's most memorable at-bats as a Yankee was a bases-loaded walk in the 1996 World Series.
Now Jeter has never been close to being as patient as Boggs. Jeter is a much more aggressive hitter, the kind who is more likely to swing at a first-pitch fastball than to advance a count to 3-2. Jeter's double off Jeff Neimann's first pitch fastball for his 2,998th hit on Thursday exemplified the type of hitter he is, but Jeter is also a student of the game and he absorbed how Boggs was meticulous about every swing.
"Boggsy never gave an at-bat away," Jeter has said.
As Jeter tries to collect two hits in the next three games so he can reach the 3,000th-hit plateau at Yankee Stadium, he is trying not to give any at-bats away, either. Jeter will probably have at least 12 at-bats against the Tampa Bay Rays this weekend to try and smack two more hits and try and join Boggs in the 3,000-hit club. Boggs was on Tampa Bay when he homered for his milestone hit in 1999 and is the only player to ever celebrate 3,000 in that muscular manner.
Last month, I playfully asked Jeter if he fantasized about matching Boggs and going deep for his 3,000th. When Jeter, who has two homers this season, stopped chuckling, he said that he has never been a power hitter, so he wasn't even dreaming about that. Jeter just wants to get a clean hit, something that will look impressive as it is replayed over and over and over.
Since Boggs was in the Yankees' dugout when Jeter slapped his first hit off Seattle's Tim Belcher, and since Boggs compiled 3,010 career hits, I figured he is someone who could provide insight into who Jeter was and who Jeter has become. Although Boggs was never the mentor to Jeter that Don Mattingly was and was never as close to Jeter as Tino Martinez was, he saw Jeter develop from a raw rookie into a cool shortstop on the team that won it all in 1996.
I contacted Brad Horn, the Senior Director of Communications at the National Baseball Hall of Fame, to try and help me arrange an interview with Boggs. Boggs declined to do the interview because of family commitments, but, in anticipation of Jeter securing the last two hits, he issued a statement through the Hall. Boggs noted that Jeter will be joining a "select group" and that it is a "monumental achievement" to climb to that lofty level.
"I had the opportunity to play with Derek when he was a rookie in 1996, and I had no doubts that Derek would reach that milestone," Boggs said. "He is a very consistent player and he never deviated from his game. When you stay healthy and you are consistent and compile a lengthy career like Derek has done, you have the opportunity to reach that 3,000-hit plateau."
Boggs's statement added that "reaching the 3,000-hit mark is another piece of the legacy that Derek has created." Then Boggs, who was inducted into the Hall in 2005, predicted that Jeter's legacy will grow even more since he expects Jeter to eventually join him in another exclusive club.
"It won't be too long now before we are on the verandah in Cooperstown at the Otesaga Hotel," Boggs said, "celebrating his induction to the Hall of Fame."
Follow Jack Curry on Twitter: @JackCurryYES