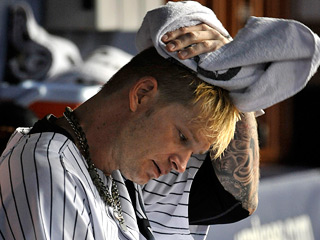 Joe Girardi has supplied the same answer numerous times to explain why he made a particular lineup decision with the Yankees. He is starting the players that he thinks will give the Yankees the best chance to win. It is a simple answer, a way to seemingly throttle any follow up questions.
But, when A.J. Burnett is involved, nothing is ever simple.
The Yankees have CC Sabathia as their ace and five other pitchers vying for the remaining four spots in their rotation. And, as Burnett continues to falter, Girardi's words about using the best players are appropriate, because anytime the Yankees start Burnett over any of the other pitchers they aren't putting their best team on the field. These days, Burnett is their worst starting pitcher.
Burnett confounded the Yankees again during a disheartening 6-4 loss to the Angels at Yankee Stadium. Bobby Abreu smacked Mariano Rivera's flat, cut fastball over the right field fence for a two-run homer in the ninth inning to lift the Angels to the win. It was Rivera's second straight ineffective outing. Relax. Rivera is the greatest closer ever. He will rebound. But Burnett is a concern, a lingering concern.
When Girardi removed Jorge Posada as the regular designated hitter and turned him into a reserve on Sunday in Boston, he said he was doing what was best for the team. Posada had not hit a homer since June 29 and had driven in four runs in his last 78 at-bats. After Eric Chavez returned from the disabled list, the Yankees spoke internally about how he could eventually take Posada's at bats at the DH slot. Now Chavez has done that. Posada is a glorified pinch-hitter, a player who seems unlikely to make the postseason roster.
So what about Burnett's status? The Yankees recognized how Posada's unproductive at-bats were hurting them and made a change. It was decisive. The Yankees see how Burnett's disappointing starts are hurting them, too. They need to be just as decisive with Burnett as they were with Posada. Since Ivan Nova has pitched much better than Burnett, and since Phil Hughes looked superb in his last start, why should they lose potential starts to Burnett? The answer is simple. They shouldn't.
Still, Girardi insisted that Burnett will make his next start, surely hoping that the pitcher doesn't repeat what he did on Tuesday. After five scoreless innings, Burnett crumbled in a four-run sixth. Abreu blasted a 3-2 fastball for a homer to tie the score, 1-1. Burnett walked Mark Trumbo, who smartly took second on a fly ball to center field. Girardi ordered an intentional walk of Maicer Izturis. Burnett ruined the strategy by walking Peter Bourgos to load the bases.
Jeff Mathis, a .180 hitter, was next for the Angels. If you are Burnett, a pitcher who is armed with a 93-mile per hour fastball and a nasty curveball, you must attack a hitter like Mathis. Burnett got Mathis to wave at a curveball for the first strike. But Burnett, who strayed from using his fastball in the inning, hung the next curve and Mathis blasted a two-run double to make it, 3-1. Burnett later bounced another curve for a wild pitch that delivered the fourth run.
In Burnett's last seven starts, he is 0-3 with a 6.00 ERA. Burnett, who hasn't won since June 29, said he wouldn't change much with how he pitched. He called Abreu's homer a ball that landed two rows deep in the right field seats. But it wasn't the homer that damaged the Yankees. It was what happened after the homer that damaged them and maybe even infuriated them. Burnett couldn't prevent the inning from becoming a debacle. As seamless as Burnett was through five, he was as messy in the sixth.
If the Yankees took Posada's job away from him, they should be able to take Burnett's job away from him, too. Even if it's a temporary move, the Yankees could tell Burnett that he's being bypassed in the rotation for one turn to work with pitching coach Larry Rothschild to improve. The Yankees can tell Burnett that he's important to their success, so they want to get him better now, not later.
After Burnett was effective in five of six innings, Girardi didn't sound like a manager that was contemplating any type of move with Burnett. But, if Burnett struggles in his next start, can the Yankees continue to start him in critical games? If the Yankees didn't have any viable options, they would have to wobble along with Burnett, but they have options because they have an extra starter in Nova or Hughes.
When Burnett was asked if he thought he would start in the postseason, he said the Yankees had to first qualify and he'd answer that question. "Next question," he said. But, actually, how Burnett fits in to the rotation isn't a question for the future. It's a question for the present. And, if the Yankees want to field their best team right now, they already know the answer to the question.
Follow Jack Curry on Twitter: @JackCurryYES