THIRTY-THREE THOUSAND THREE HUNDRED AND NINETY EIGHT FEET ABOVE THE PACIFIC OCEAN - Four hours into a 14-hour flight from Los Angeles to Taiwan, Robinson Cano looked like Justin Bieber at an elementary school's dance.
After Cano strolled into the back of the Eva Airlines plane that was carrying a team of Major League players to an exhibition tour, the transformation occurred. The flight attendants behaved like eighth-grade girls while Cano channeled Bieber. The giddy women surrounded Cano, burying him with bags of pristine baseballs.
So a smiling Cano placed a pillow on the arm rest of seat 64G, sat down and signed and signed and signed. When Cano wasn't autographing baseballs with his right hand, he was pausing to pose for pictures. There were a dozen flight attendants trying to inch closer to Cano and each seemed to have a dozen baseballs. If a chaotic scene could ever be orderly, this one was because the women were mostly patient.
"Everyone knows who he is," said Angela Lai, one of the flight attendants. "He is very famous."
The roster for this trip includes 28 players, but Cano and Curtis Granderson, who are Yankee teammates, are the headliners. And, before Cano even climbed the stairs to get on the plane, it was obvious how much of an attraction he was. Cano did more interviews on the tarmac at Los Angeles International Airport than all of the other players combined. Some of the players asked to pose for pictures with Cano.
As Cano and Granderson spend eight days touring Taiwan and playing five games against the Chinese Taipei National Team, I will be along for the ride. I'll be on the buses, on the airplanes, on the trains, in the clubhouses and will explore some of the interesting parts of this island nation with Cano and Granderson. The YES Network will use my reporting and the footage gathered by Eric Roldan and John Ackerina to produce some future shows. Stay tuned for details on these programs.
I will also be filing reports for yesnetwork.com called "E-Cards from Taiwan." I thought about calling them "Postcards from Taiwan," which sounds romantic. But, honestly, I don't think I've sent a postcard since I was a teenager. I send e-mails every hour of every day so "E-Cards from Taiwan" is a more accurate moniker. Mostly, they will be snappy anecdotes and observations about our journey.
The scene with Cano was perfect to explore in my first E-card. Cano was dutiful about signing and used a black marker until every baseball in every bag had his signature. One of the three pilots left the cockpit to have his picture taken with Cano. His stay was brief. The pilot explained that he needed to return to work.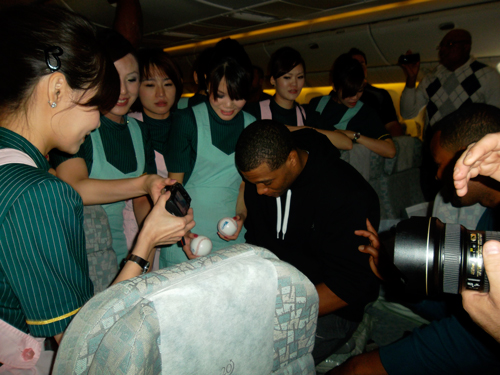 Cano was so smitten with being the man in the middle of the flight attendants that he implored Jose, his father, to videotape him. Jose, who pitched in Taiwan for five years, knows some Mandarin so he could communicate with the women in the green, pinstriped uniforms in their native language. Jose maneuvered in and out of rows 63, 64 and 65 to videotape Robinson reveling in the mundane act of signing baseballs.
After Robinson had finished providing more than 100 souvenirs, Jose played reporter and interviewed him in Spanish. What did Jose want to know about such a cool experience?
"I asked him," said Jose, "what it was like to have so many women around him."
That's easy. Robinson Cano felt like Justin Bieber.