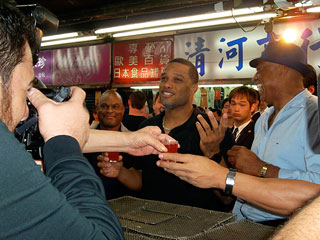 TAICHUNG, Taiwan -- Robinson Cano hopped out of a white van near one of the popular "night markets" here and the screeching started. Everyone on the bustling street seemingly recognized Cano so they scampered toward him to snap his picture. A group of fans quickly became a crowd that became a mob. There was a wall of 10 security guards surrounding the Yankees' second baseman.
Cano took small steps during his shopping expedition. He had no choice. With so many people smothering him, Cano had to shuffle along at a sluggish pace. It didn't matter to Cano, who stopped to pose for pictures and who appeared to enjoy the attention as much as the people enjoyed seeing him.
When Cano walked into a sneaker store, fans rushed toward the door and tried to get near him. Eventually, about 200 people blocked the entrance and chanted, "Ca-no, Ca-no." Even if Cano wanted to leave the store, he couldn't. But, again, Cano wasn't bothered. The fans raised their cameras high in the air and pointed them at Cano, a collection of outstretched arms that seemed to stretch a block.
"I couldn't believe it," Cano said. "I had goose bumps."
There have been a bunch of rewarding moments for Cano during the 2011 Taiwan All-Star Series, most of them related to his interaction with the passionate fans. Before one of Cano's at-bats, the fans behind the on-deck circle wouldn't stop shouting to him. Finally, Cano turned his back to the plate and took some practice swings toward the box seats so the fans could get better pictures.
While Cano was at the store, he bought 16 T-Shirts and caps that were emblazoned with the Taiwanese flag. He immediately wore one of the shirts, which allowed the fans to feel even more of a kinship. Any public relations man would have called Cano's decision to don a Taiwanese shirt a genius move. It was a cool element of another cool night for Cano.
Follow Jack Curry on Twitter: @JackCurryYES