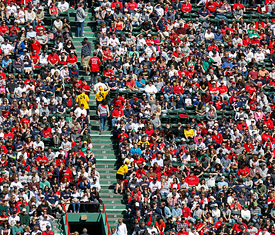 As Russell Martin discussed the rekindling of the rivalry between the Yankees and the Red Sox, he had a look of anticipation on his face. It was the look of a boxer before an important bout against a despised rival. It was the look of someone who was anxious to try and spoil Boston's 100th anniversary celebration of Fenway Park on Friday.
"When you play Boston," Martin said, "the only thing you care about is beating them."
Obviously, that is the same attitude the Yankees have when they play any team. Whether it is the Red Sox, the Rays or the Rangers, the Yankees want to win every game. But Martin meant that the conquests between the Yankees and the Red Sox are a bit different. There is a different type of intensity when the Yankees roll 200 miles north and end up as guests at Fenway.
"It starts with the fans," Martin said. "There's energy when you take the field. Every play is magnified. The fans give us that energy."
Maybe this trip to Boston will be timely for the Yankees. Maybe that boost of energy will help a team that has looked stale in starting the season with a 7-6 record. The Yankees have been burdened by ineffective starting pitching (5-5, 5.59 ERA) and inconsistency in clutch hitting situations. For the Yankees to flourish in a difficult American League East, they need their starters to be much more reliable. The rotation was supposed to be a definite strength, but, so far, it's been a weakness.
After CC Sabathia's last Spring Training start, he was worried about his fastball command and those concerns have lingered as he has labored in his first three starts. Ivan Nova, who will face the Red Sox on Friday, has actually been the Yankees' most consistent starter with a 2-0 record and a 4.15 ERA. Phil Hughes notched his first victory on Thursday, but he continues to struggle with deep counts and the inability to bury hitters. Hiroki Kuroda has made three starts: one was superb, one was decent and one was poor. Freddy Garcia has looked lost in both of his starts. Andy Pettitte, who is supposed to be another pitcher and not a rotation savior, can't arrive soon enough.
If not for a tremendous bullpen, which leads the Major Leagues with a 1.83 ERA, the Yankees would be in a more perilous situation. While the Yankees are focused on their own pitching, sometimes it's impossible to ignore what is transpiring with the Red Sox. If the Yankees think their pitchers have been problematic, they should realize that the Red Sox pitchers have been worse. Boston has a 6.79 ERA, its worst ERA through the first 12 games since 1928. Fenway celebrated its sweet 16 back then.
The Red Sox want to celebrate Fenway on Friday, as they should. But manager Bobby Valentine also wants to begin transforming a team that is 4-8. Valentine caused a ruckus in Boston by saying he didn't think Kevin Youkilis was as emotionally and physically prepared as he had been in the past. The words stung Youkilis. Dustin Pedroria defended Youkilis and took verbal jabs at Valentine. Guess what? The Red Sox better get used to potential firestorms like that. Valentine is only one answer away from the next one.
Both Martin and Derek Jeter sidestepped questions about Valentine, saying that they didn't know him very well. Like Martin, Jeter spoke about how the Red Sox fans "are on top of you" and how that is "good and bad." Jeter and Alex Rodriguez get booed as much as any Yankees, although Martin pushed himself into contention for the most vilified Yankee by saying he hated the Red Sox last year.
"Do I still hate them?" Martin said, repeating a question. "I never really hated them. It made for good paper."
And it was also good for the rivalry, a rivalry that continues on Friday. The Yankees will watch as Boston sings a 100th Happy Birthday to Fenway, but, as Martin stressed, the only thing they care about is beating the Red Sox.
Follow Jack Curry on Twitter: @JackCurryYES