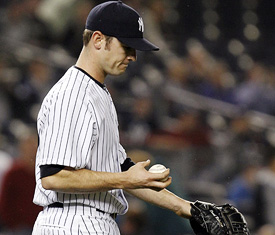 Fifteen years later, the vision of a spooked Mariano Rivera is still embedded in my cranium. One week into the 1997 season, Rivera surrendered a 464-foot homer to Mark McGwire and blew his second save in four chances. Rivera was the new closer for the Yankees, but he was failing in the ninth inning.
As Rivera fielded questions about letting a 1-0 lead disappear at Yankee Stadium, his voice cracked. He searched for the proper words, but he was really searching for the right answers, too. The more Rivera spoke, the more obvious it became that he was a bewildered soul. He was the closer who wasn't closing.
"I think I need something to get me going," Rivera said at the time. "I think mentally to get me going I have to try to think like last year. Just think it's the sixth or the seventh inning instead of thinking, 'Oh, it's the eighth or the ninth.' Just think like last year. I got to do that."
When David Robertson let a 1-0 lead disappear at the new Yankee Stadium on Wednesday in a 4-1 loss to the Rays, he looked spooked, too. As Robertson answered questions about his first blown save as Rivera's replacement, I recalled what had happened with Rivera when he first took over the most difficult job in baseball. Rivera needed to use mind games to help him conquer the ninth. That approach might sound simplistic, but it worked.
"I was putting too much pressure on myself," Rivera explained in June of 1997. "Now I'm relaxed, and I feel confident and loose. I think that's why I've gotten saves. I don't think it's the ninth out there."
Obviously, Rivera scaled any mental hurdles that he needed to scale to excel in the ninth. He jumped over those hurdles and buried them forever in becoming the greatest closer of all time. Rivera has a record 608 career saves and also has 42 saves and a 0.70 ERA in the postseason.
Does Robertson, who dominated the eighth for the Yankees last season, need to mimic Rivera and act as if the ninth isn't the ninth? Not necessarily. If Robertson thinks that will help him, then, yes, he should follow Rivera's path and play mental tricks, too. He can act as if this season is 2011, just like Rivera acted like 1997 was 1996.
What Robertson definitely needs to do is have a short memory after he notches a save or blows a save, something Rivera has taught him. What Robertson also needs to do is retain the confidence that he showed last season when he was one of the best relievers in the American League. One disappointing setback to the Rays, which was fueled by a misplaced fastball on Matt Joyce's three-run homer, doesn't change who Robertson is and how critical Robertson is to the Yankees.
A few hours after the loss, it seemed as if Robertson had already heeded Rivera's message about having a short memory. On Robertson's Twitter account, he wrote about how the loss stunk, but added, "If there is one thing Mo has shown me is how important it is to turn the page." Then Robertson turned it, via another Tweet. "And, look, it's already after midnight, which means it's a new day. Let's take the series tomorrow."
Without Rivera, the ninth will be different for the Yankees. It will be more adventurous and more nerve-wracking. Robertson can fill Rivera's role, but he probably won't be as smooth as Rivera. Whereas Rivera's cut fastball caused batters to swing early in the count and could result in a 10-pitch inning and three broken bats, Robertson's innings are usually more draining. Robertson averages 12 strikeouts per nine innings, so there will be deeper counts. He also walks more batters than Rivera, so that will add to the drama.
Still, Robertson doesn't have to be an exact replica of Rivera to thrive as a closer. In fact, he can't be an exact replica of Rivera. No one can. It would be silly to think Robertson could do that. But Robertson has an explosive fastball, a great curveball and steely confidence, which means he has the tools to be a premier closer. He is the right pitcher for the job, a job that even the mighty Rivera had to grow into 15 years ago.
Follow Jack Curry on Twitter: @JackCurryYES