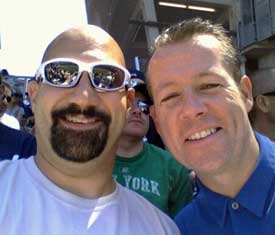 The plan sounded cool enough. My wife, Pamela, and I decided to take Kyle, our nephew, to a Yankee game for his 16th birthday. We told Kyle he could bring a few friends, too. Kyle picked Sunday's game against the Reds long before we knew CC Sabathia would oppose Johnny Cueto, a nifty pitcher's duel that made the afternoon even more enticing.
Before we reached Yankee Stadium, I tweeted that I would be attending the game instead of analyzing the action with Bob Lorenz at the YES Network studios. Soon after that tweet, I received an invitation from Vinny Milano. Better known as Bald Vinny, he is the maestro of the Bleacher Creatures.
"My wife and kids are coming, too," Vinny tweeted me. "You guys should join us in Section 203 for Roll Call."
I had been in the bleachers to witness roll call as a newspaper reporter, once when David Cone joined the creatures in 2002 and again when David Wells returned as a member of the Red Sox in 2005. Both visits at the old Yankee Stadium were intriguing, but for different reasons. It was fascinating how seamlessly Cone blended in with the creatures. It was also notable how the creatures reminded Wells that no Red Sox player would ever receive praise from the bleachers.
"If you want to see a Yankee game," Cone said, at the time, "you come out here."
Now Kyle and his posse of John, Brandon and Mike had the chance to do what Cone had done: hang in the bleachers. When I asked the quartet of teenagers if they wanted to join Bald Vinny for the roll call, they reacted as if I asked if they wanted to replace Alex Rodriguez, Derek Jeter, Robinson Cano and Curtis Granderson in the starting lineup.
"The roll call?" John said. "Are you serious?"
Yes, I was serious. Since it was Kyle's birthday, I left the decision up to him. He quickly said that we should accept Bald Vinny's invitation. Kyle is a serious Yankee fan and a smart kid. He knew the deal. We all knew the deal. If Bald Vinny invites you to a roll call, you sprint to the bleachers because it will be a priceless experience.
Well, we didn't run to Section 203. But we walked briskly. We met Bald Vinny behind a section of seats that was about to become awfully loud. Vinny is a friendly guy and a perfect host. When Bald Vinny walked down the rows of bleachers, he might as well have been descending the stairs of his own house. Everyone knew him. Everyone waited for his instructions.
After the Yankees trotted to their positions, Bald Vinny's eyes darted from player to player so he could reaffirm who was in the lineup. He noted that DeWayne Wise was in left field and mentioned that Eric Chavez was playing first base before repeating himself. It was Chavez's first start at first this season.
"I hate it when our regular guys aren't playing," Vinny said.
A few seconds later, the maestro started. He stood and stretched his left leg out to the bleacher row in front of him, holding a blue scarf that said "Bleacher Creatures." Bald Vinny wanted the creatures to be noisy, but there was no need to remind them. That was a given. Of course, they would be loud. Of course, they would follow Vinny's guidance.
Granderson was the first Yankee to hear his name chanted. "Cur-tis, Cur-tis," the creatures screamed. Granderson turned toward them and shook his upper body. Wise was the next Yankee to get serenaded, the fourth time that's happened for him. Then the creatures shouted to Swisher, who is their favorite player. Swisher, of course, turned and saluted them. The Swisher Salute is one of the types of T-Shirts that Bald Vinny sells outside the Stadium on game days.
Smoothly and efficiently, Bald Vinny led the creatures through the roll call for the infielders, too. In a few minutes, the roll call was done. As a journalist, my desire was to observe what the creatures do and show them the respect they deserve. I'm wired to report, not to clap. Vinny thanked his cohorts for being boisterous and sat down. A few seconds later, Vinny's young daughter, Layla, delivered a message.
"Daddy," she said, "too loud."
Kyle and his three buddies disagreed. They thought Bald Vinny and the creatures were just loud enough, just loud enough and passionate enough to solidify a memorable experience in the bleachers.
Follow Jack Curry on Twitter: @JackCurryYES