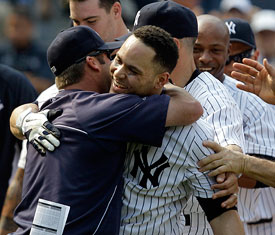 The boys and girls from St. Lucy's Catholic School in the Bronx crowded around Russell Martin. They wanted a high-five, an autograph or the chance to have their picture snapped with the Yankees' catcher. The kids were giddy about meeting a real Yankee, playfully pushing toward Martin to try and steal his attention.
This scene occurred about three weeks ago in the auditorium of an elementary school that is still mourning and still trying to heal. Martin and three teammates visited St. Lucy's to let the students know how much they cared about them following the loss of Niely Rosario, a first-grader at the school. Niely was one of seven members of the same family killed in the devastating accident along the Bronx River Parkway in April.
As Martin stood between the stage and a first row of chairs, a sea of kids surrounding him, he wondered how the students could handle the kind of loss that no one should ever have to handle. But Martin was relieved because the kids were excited. They were acting like kids, shouting and screaming and doing what kids are supposed to do when a few Yankees suddenly appear at their school.
"I've been kind of down because I haven't been swinging the bat well," Martin said. "But then you come here and you look around, and you see what these people have been through. It reminds you of how difficult it's been for them. Your problems are nothing compared to this."
When Martin smacked Jon Rauch's 3-2 slider into the left field seats to power the Yankees to a 5-4 win over the Mets on Sunday, I thought about his experience at the school. As Martin leaped on to the plate to greet his waiting teammates, which wasn't a smart move, he looked as giddy as any of the kids he had met at St. Lucy's.
While Martin joked that his vertical leap was two inches, he did have reasons to be thrilled. In addition to the walk-off homer against Rauch, Martin had also lined a two-run homer off Jon Niese in the seventh inning that helped slice a 3-0 deficit to 3-2. Martin's homer was a Yankee Stadium special, a ball that eluded leaping right fielder Scott Hairston, hit the top of the fence and landed in a fan's hands. With those two homers, Martin has four in his last six games. He had four in his first 44 games.
"I can't really picture a better script for me," Martin told reporters at the Stadium. "I'm starting to feel dangerous at the plate."
On the day Martin visited St. Lucy's with Raul Ibanez, Rafael Soriano and Boone Logan, he was batting .181. Of course, he's not a .181 hitter. He is a better hitter than that and was bound to improve. Still, since Martin's visit to the school, he is 13-for-44 with four homers and eight runs batted in over 13 games. Now Martin is a .216 hitter. He's a better hitter than that, too. Despite the low average, he does have a .348 on-base percentage and a .432 slugging percentage.
Sometimes, all a player has to do is make a subtle change to get better results. Martin told Meredith Marakovits of YES that he backed off the plate a few inches, a change that he made on his own, and that alteration has been instrumental in his offensive splurge. After Martin saw how Miguel Cabrera of the Tigers stood away from the plate and looked relaxed, and looked as if he could see the ball travel all the way to the plate, Martin told Marakovits he decided to mimic Cabrera and make the change.
Because of Martin's power, the Yankees climaxed a successful weekend by sweeping the three game series from the Mets. With a stabilized starting rotation, the Yankees now have 13 wins in their last 17 games. Guess what? That 13-4 streak began on the day that Martin and the Yankees visited St. Lucy's.
Follow Jack Curry on Twitter: @JackCurryYES