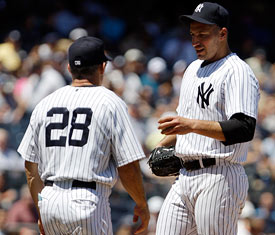 The images of Andy Pettitte Tuesday afternoon at Yankee Stadium were blissful. He stood near the batter's box and smacked grounders to his sons. When Pettitte came out of retirement, this was one of the fringe benefits he knew he would have again. He looked content.
The images of Pettitte on Wednesday afternoon at the Stadium were disturbing. There was a liner that caromed off his left leg. Then Pettitte fell to the ground. He crawled for the ball and stopped. He tried to remain in the game, but he lasted one more pitch. He looked morose.
It was a sobering day for the Yankees. Before the 5-4 win over the Indians, manager Joe Girardi revealed that CC Sabathia had a strained groin and would go on the disabled list. The Sabathia news was the equivalent of a punch to the stomach since the Yankees are hopeful that he will only miss two starts. But the news of Pettitte's fractured fibula was a lot worse, the equivalent of Mike Tyson using your face as a punching bag. Pettitte will miss a minimum of six weeks, although general manager Brian Cashman admitted it will probably be closer two months.
"Bad day for left-handers," said Girardi, after losing his two best pitchers.
It was a very bad for two left-handers and for the Yankees. But the Yankees need to treat these injuries as footnotes. That's the way teams must react any time they lose players. There's a game almost every day. Fretting about the players who are unavailable is detrimental. When Sabathia and Pettitte are healthy and are ready to pitch again, the Yankees will be relieved. Until then, the Yankees, like any other team with missing pieces, must plow ahead.
In a season where the Yankees have already lost Mariano Rivera, the best closer of all-time, following knee surgery, they have been resilient. I never expected the Yankees to absorb the loss of Rivera as effectively as they have, but, with David Robertson and Rafael Soriano, they were better equipped than any team in baseball to cover Rivera's massive void. The Yankees' bullpen has a 2.82 earned run average, the second best in the American League.
Now the Yankees must cover for Sabathia and Pettitte. If the Yankees had only lost Sabathia, it wouldn't have been such a dreary day. Yes, it's difficult to lose an ace. But, if Sabathia only misses two starts, the Yankees would have simply used Freddy Garcia to fill in for him. Garcia, who has a 1.56 ERA in his last 10 games, has resurrected himself by increasing his velocity. In April, Garcia's fastball averaged 87.5 miles per hour. In June, Garcia has pumped it up to 90 MPH.
Still, instead of merely covering for Sabathia's absence, the Yankees will also need to cover for Pettitte's missed starts. A lot of them. If Pettitte misses two months, as Cashman theorized, the Yankees won't have for him about 11 starts. For now, Garcia and Adam Warren, who will make his Major League debut on Friday, will replace Sabathia and Pettitte. If Warren stumbles, the Yankees will summon David Phelps, who is stretching out his arm in the Minor Leagues after relieving for most of this season.
Before the Yankees lost Sabathia and Pettitte, Cashman praised their pitching depth and even mentioned Warren and Phelps. Now the Yankees will be tested, just as they were after Rivera was lost for the season. While the Yankees don't have the same type of reinforcements for the rotation spots as they had for the back end of the bullpen, they need to plow ahead. That's what great teams do.
Follow Jack Curry on Twitter: @JackCurryYES