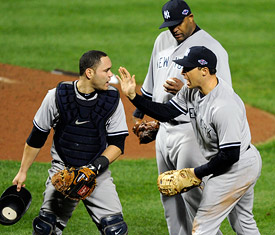 Sometimes, you actually get to save your season at the end of the season. Sometimes, the travails of April through August are pushed aside because of what you do in September and October.
Russell Martin is experiencing that rare opportunity now. He is saving a season that had been woeful.
As CC Sabathia used a fastball, slider and changeup combination to fluster the Orioles for 8 2/3 innings and help hoist the Yankees to a 7-2 victory in Game 1 of the American League Division Series on Sunday, he was the most important player at Camden Yards. The Yankees need Sabathia to be their ace and their guarantee. When Sabathia starts, the Yankees want to believe they are as close to notching a win as they can get.
The second-most important Yankee on the field was Martin, the catcher who called Sabathia's pitches, who guided Sabathia through some dicey innings and who blocked a few pitches in a way that would have impressed Martin Brodeur. When Martin shed his gear, he managed to smack Jim Johnson's 2-0 fastball for a tie-breaking homer in the ninth inning. Before Martin's homer, he had gone deep once in 86 postseason at-bats.
Still, there is a relaxation about Martin in those crucial situations. After Johnson fell behind with two fastballs, Martin had to know that Johnson was going to throw a meatier fastball. There's no way Johnson wanted to walk the leadoff hitter in the ninth inning of a tie game. Martin pounced. It was his third walk-off homer in 2012.
"It's just, you know, you either want to be in that situation or you don't want to be in it," Martin said. "I love being in that situation."
It's rather bold of a .211 hitter to say he wants to be up in those stressful spots, but Martin said it with conviction. Truthfully, he isn't a .211 hitter anymore. From August 29 until the end of the season, Martin hit .269 with seven homers and 18 runs batted in. He finished with 21 homers, a career high.
Before Martin victimized Johnson, the seemingly invincible closer, he had a memorable fifth. In that inning, Martin's contributions weren't about offense. They had everything to do with defense. After Chris Davis' leadoff single, Lew Ford hit a ball that dribbled toward the mound. Martin instantly sensed that he was the only player that could make the play. He rushed forward, grabbed the wet ball and flung it to first as he tumbled forward on the grass. Mark Teixeira made a terrific scoop on the one-hop throw to collect the out. It was an athletic play and a hustle play.
Once Davis advanced to third, Martin twice blocked sliders that Sabathia had bounced near the plate. If Martin didn't get his body in front of either pitch, Davis would have cruised in with the go-ahead run. Not only did Martin block the pitches, he gave Sabathia the confidence to keep throwing that nasty slider with runners on base. Martin explained his defensive role as "taking care of my pitcher," which he did over and over.
It was a trying season for Martin, long stretches of lousy at-bats and an average that was under .200. But Martin is playing in October now, which is a chance for him to continue to save his season and help the Yankees push toward a World Series title. He was the second-best player on the field in Game 1. Suddenly, the .211 hitter looks imposing in the most important month of all.
Follow Jack Curry on Twitter: @JackCurryYES