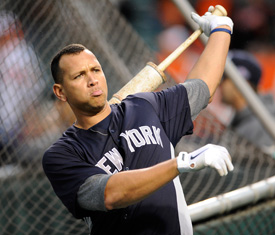 Before Alex Rodriguez took his first swing against the Orioles in the American League Division Series, I exchanged text messages with an AL scout. I asked the scout for his evaluation of Rodriguez, who had been repeatedly beat on fastballs as he faltered at the end of the regular season. His response was blunt.
"A-Rod will only show up if the pen does not have good stuff," the scout wrote.
In one brief and damning sentence, the scout gave an accurate appraisal of what has happened in the first two games of the best-of-five series. While Rodriguez is 1-for-9 with five strikeouts overall, he is 0-for-4 with four strikeouts against Baltimore's relievers. He is 0-for-2 off Darren O'Day and 0-for-2 off Jim Johnson.
With each unproductive at-bat by Rodriguez, the questions about him hitting third in the lineup have intensified. The Yankees can't afford to have Rodriguez doing little to nothing in front of Robinson Cano, who is their most ferocious hitter now. Since manager Joe Girardi didn't guarantee that Rodriguez would hit third when he spoke to reporters on Tuesday, my guess is he will demote Rodriguez to fifth in the order, shift Cano from fourth to third and bat Mark Teixeira in the cleanup spot for Game 3.
It makes sense for Girardi to drop Rodriguez, who hasn't homered in 77 at-bats. Yes, Rodriguez drilled a line drive that a slick-fielding Robert Andino turned into a double play and also lashed a single in his first two at-bats against Wei-Yin Chen on Monday. But he hasn't looked comfortable in these two games or over the last month. Sometimes, Rodriguez seems as if he is guessing instead of attacking at the plate, which isn't the sign of a confident hitter. By batting Cano third, the Yankees will get him to the plate earlier and more often.
On the workout day at Yankee Stadium last Friday, I asked Rodriguez what his expectations were for himself in the ALDS. Rodriguez said, "I just want to help contribute to a winning team." Obviously, I wanted more insight so I asked Rodriguez about his personal goals for the series. Rodriguez didn't want the focus to be on him. He mentioned the importance of continuing to get on base in front of Cano and helping the offense in any way he can.
On that workout day, Rodriguez didn't want to be the focus. But, after two games, a lot of the focus is on Rodriguez. Rodriguez isn't the only Yankee who has sputtered, but he is the only $30 million Yankee that seems overwhelmed about hitting in the three-spot. It's time for Girardi to make a change.
Follow Jack Curry on Twitter: @JackCurryYES