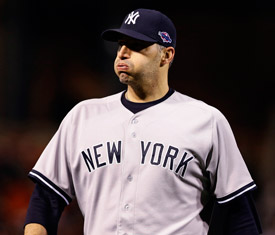 When teams re-sign their own players in the offseason, those moves don't always resonate with some observers. There are fans who clamor for something different and new, even if something different and new isn't the smartest decision. There's a tendency to think different must be better.
By signing Hiroki Kuroda to a one-year, $15 million contract, and closing in on one-year deals with Andy Pettitte and Mariano Rivera, the Yankees will have three crucial pitchers returning for 2013. While bringing back three aging pitchers might not seem sexy, these were the right moves for the Yankees.
As long as Rivera and Pettitte decided they would pitch in 2013, the belief was that they would return to the Yankees. But, with the winter meetings less than a week away, the Yankees felt an urgency to sign both pitchers so general manager Brian Cashman would know how much he could spend in other areas (catcher, right field, bench). Pettitte is expected to sign for $11 million. Rivera will get about the same.
No matter what the Yankees do for the rest of the offseason, it will be difficult for them to top the signing of Kuroda. Kuroda is a legitimate No. 2 starter who was the Yankees' best pitcher last season. He is a no-nonsense performer who wanted a one-year deal, which worked well for the Yankees because they don't want to sign any pitchers to multi-year deals. That's because the Yankees are intent on keeping their payroll under $189 million in 2014 to reap the massive financial benefits.
In keeping Rivera, Pettitte and Kuroda, the Yankees will have three pitchers who will be 43, 41 and 38 next season. Should that be a concern? Age is always a concern. Rivera must prove that he can rebound from knee surgery, but, even if Rivera is 85 percent of what he has been recently, that would mean he's still a stellar closer. Pettitte had a 2.87 earned run average last season, but a fractured fibula limited him to 75 1/3 innings. He needs to stay healthy and pitch 200 innings, something he hasn't done since 2008. Kuroda needs to carry the consistency of 2012 into 2013.
With CC Sabathia, Kuroda and Pettitte as their top three starters, the Yankees have a reliable front end of the rotation. Obviously, they must avoid injuries. But, for anyone who doubts what those three can do, where would the Yankees be if Kuroda signed elsewhere and Pettitte retired? The Yankees would have been in deep trouble. Instead, Phil Hughes is now the favorite for the fourth spot while Ivan Nova and David Phelps will compete for the fifth spot. Michael Pineda won't be ready to start the season.
For the Yankees to exceed what they did in 2012, they still need significant contributions from Kuroda, Pettitte and Rivera. These pitchers are part of the solution, not part of the problem. When the Yankees forecast how they would be best assembled to win it all in 2013, the plan always included the three veteran pitchers they are welcoming back.
Follow Jack Curry on Twitter: @JackCurryYES