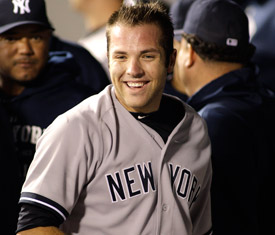 A few hours before Russell Martin signed a two-year, $17 million contract with the Pirates, I asked Yankees' general manager Brian Cashman how confident he was about re-signing the catcher. Cashman didn't want to specifically answer the question, but his non-answer was enough of a response for me.
It seemed obvious that Martin wouldn't be back with the Yankees.
By declining to offer Martin a similar two-year deal, the Yankees showed how they felt about a soon-to-be 30-year old catcher whose skills could be eroding. Martin is a tough player with solid power, but his average has dropped for five straight seasons.
The Yankees also reiterated how serious they are about having their payroll under $189 million in 2014. They didn't want to commit to Martin for a salary that would have impacted the 2014 payroll.
If Austin Romine hadn't been hampered by a back injury and had played an entire season at Triple-A in 2012, he would presumably be in a better position to become the starting catcher. But Romine only played 17 games for Scranton Wilkes-Barre. When I mentioned how Romine might have been a candidate to start in 2013 if he hadn't been hurt, Cashman said, "Maybe he still is."
While Cashman wasn't ready to announce his starting catcher before the calendar turned to December, the Yankees should allow Romine to compete for the job. When he was still at Double-A, the Yankees felt he was Major League ready from a defensive standpoint. If Romine is healthy and can handle the defensive workload, the Yankees should be able to live with whatever he does offensively. In Romine's Minor League career, he has hit .278 with 43 homers in 458 games.
Mike Napoli and A.J. Pierzynski are free agent catchers, but those two players are more about offense than defense. The Yankees don't seem interested in either. A trade is always a possibility, but what team is going to deal a front-line catcher?
Besides Romine, the Yankees have Francisco Cervelli and Chris Stewart as catching options. But both Cervelli and Stewart are viewed as backups. Romine profiles as someone who is expected to be a starter.
Entrusting the most important defensive position on the field to a 24-year old who has played a total of 21 Triple-A games would be a daring move. Still, I think it would be a worthwhile move. As the Yankees march toward a world where their payroll will be under $189 million, they need some talented players who are also inexpensive. Romine can be one of them. Why not give him a chance to show it?
Follow Jack Curry on Twitter: @JackCurryYES