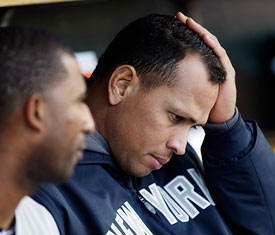 NASHVILLE – On the first official day of the Winter Meetings, Alex Rodriguez emerged as the most discussed player at the cavernous Opryland Hotel. It wasn't for a good reason. Rodriguez has a tear in his left hip that will require surgery, meaning he will miss part of the 2013 season. The New York Post first reported the Rodriguez news while adding that it's not the right hip previously operated on in 2009.
Rodriguez injured the hip before the postseason, a dismal stretch in which he went 3-for-25 with no extra-base hits and 12 strikeouts. The hip problem could help explain why Rodriguez looked lost at the plate and showed no power in the playoffs. The Yankees had hoped that Rodriguez would return as a much more productive hitter, but now they will have to wait and see how he recovers.
Without Rodriguez and with Derek Jeter recuperating from a fractured left ankle, the Yankees suddenly have an empty left side of the infield. There is no guarantee that Jeter will be ready to play by Opening Day, either. The revelation about Rodriguez's hip intensifies the need for the Yankees to add a third baseman, something general manager Brian Cashman already had on his to-do list.
As Cashman searches for infield help, he will definitely consider free agents Stephen Drew and Marco Scutaro. The Yankees also like Eric Chavez, but, because of his injury history, they don't consider him someone who could play every day. Chase Headley of the Padres, a player who has been linked with the Yankees in trade talks, is another possibility. Rodriguez, who is 37 years old, has five years left on his contract.
Because of the way Rodriguez's season ended, there were going to be endless questions about him in Spring Training. Now those questions will multiply. After Rodriguez's last hip surgery in 2009, he knocked in 100 runs in 124 games. After another surgery, can the Yankees even dream that an aging player will experience a renaissance? The Yankees would be content if Rodriguez could return and be reasonably productive. But that answer won't come for a while.
Follow Jack Curry on Twitter: @JackCurryYES