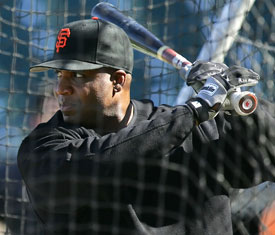 No players were elected into the Baseball Hall of Fame today, a development that didn't shock or disappoint me. It is difficult for candidates to get 75 percent of any vote, especially once that process becomes complicated and muddied by the simmering steroid debate.
As a member of the Baseball Writers Association of America since 1990, I have a vote. I checked the box near the names of eight players on the ballot, the most players I've ever selected. I voted for Craig Biggio, who received the highest total with 68.2 percent, Mike Piazza, Tim Raines, Curt Schilling, Jeff Bagwell, Jack Morris, Edgar Martinez and Larry Walker.
But it's the two players that I failed to vote for that were discussed and dissected more than any other this year. I didn't vote for Barry Bonds or Roger Clemens, who might be the best hitter and best pitcher I've ever covered. While Bonds won seven Most Valuable Player Awards and Clemens won seven Cy Young Awards, I couldn't take my pen and put an X beside their names because of their connection to performance-enhancing drugs. I wasn't alone with those thoughts. Clemens notched 37.6 percent of the vote while Bonds got 36.2.
I've had dozens of conversations with players, managers, coaches and fellow voters about the 2013 ballot. Some of the smartest writers in the country made convincing arguments about why they voted for Bonds and Clemens. I respect their opinions, but I disagree with them. I'm not sure how and when it became so acceptable to honor players that cheated others and the game.
To me, the easiest decision would have been to vote for Bonds, who belted 762 homers, and Clemens, who won 354 games. Based on their career statistics, do they belong in the Hall? Of course they do. But I have a vital follow up question: What statistics are we judging them on? Are we judging them on career stats or the stats they accumulated before they became linked to steroids? I couldn't vote for a player whose numbers were artificially enhanced. I also hate the argument about how they were Hall of Famer players before their connection to PEDs so that makes them Hall of Famers.
Let's say two high school students were competing for the valedictorian. In senior year, one of the students decided to cheat. He was already great, but he wanted to be greater. If you found out that he cheated, would you be willing to honor him because he was worthy of being the valedictorian before he started cheating? I wouldn't.
Bonds admitted to using steroids, although he said he did it "unknowingly." Clemens's former trainer, who seemingly spent almost every hour with him, said that Clemens also used steroids. When you take that information and combine it with the incredible boost in stats that both players produced later in their careers, it's improbable to think that they did everything on their own. As journalists, we're taught to report about what we see. Any reporter who saw Bonds and Clemens now knows that he or she wasn't seeing entirely legitimate performances.
"I'm going to vote for both of them," one voter told me. "But I'm going to hold my nose while I do it."
Since I didn't vote for Bonds or Clemens, I've been asked why I voted for Piazza and Bagwell. I don't think that tandem should be grouped with Bonds and Clemens. I haven't seen anyone uncover how either of those players had a direct connection to steroids. In fact, I think Piazza got blasted with steroid shrapnel in this election. It's unfathomable to me that the best-hitting catcher ever isn't a first-ballot Hall of Famer. He was named on 57.8 percent of the ballots and is likely to be elected soon.
My refusal to vote for Bonds and Clemens isn't some personal issue. I covered Bonds during his pursuit of Hank Aaron's all-time home run record and recall having an enjoyable conversation with him about Notorious B.I.G. I liked covering Clemens, who I called John Wayne in pinstripes. I'm not trying to influence anyone's vote. It's my ballot and I needed to feel I was doing the right thing with it. For me and for this year, that meant not voting for Bonds and Clemens.
Follow Jack Curry on Twitter: @JackCurryYES