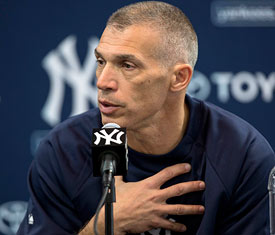 TAMPA, Fla., – Before Spring Training, there's a snap shot or an assessment of every team. That snap shot is a quick way of deciphering who that team could be or should be. It's not always accurate, but it's the theme that follows the team into camp.
In Joe Girardi's association with the Yankees as a player, as a coach and now as the manager, those evaluations have invariably involved the team winning at least 90 games and qualifying for the postseason. Actually, in 17 of the last 18 seasons, the Yankees have reached the playoffs, eclipsing 90 victories in 15 of those seasons. Girardi was part of 10 of those teams.
So when I asked Girardi for his snapshot of the 2013 Yankees, he naturally didn't hesitate.
"This team could win 95 games and get to the World Series," Girardi said.
Why did Girardi speak so confidently?
"Because," he said, "there's a lot of talent in this room."
After an offseason in which the Yankees acted early to retain Hiroki Kuroda, Andy Pettitte and Mariano Rivera, and then signed Kevin Youkilis and re-signed Ichiro Suzuki, there was also considerable focus on the players they lost. Russell Martin, Nick Swisher, Raul Ibanez, Rafael Soriano and Eric Chavez were all important players last season and they have all departed. The Yankees have some uncertainty about replacing those productive players, especially at catcher.
Of the players the Yankees lost, I think Martin will be the most difficult to replace. While Martin only hit .211 a year ago, he was actually one of the Yankees' better hitters late in the season. Martin was also a tough, reliable player at the most difficult position on the field. General Manager Brian Cashman called him the toughest Yankee he had ever seen. Now Francisco Cervelli and Chris Stewart, who profile as backups, and Austin Romine, who has only played 21 games at Class AAA, are fighting for the starting spot.
Still, Girardi, the eternal optimist, preached optimism. The manager emphasized how the Yankees have the same starting rotation, essentially the same bullpen (with Rivera replacing Soriano) and the same infield back. Since the departures of Martin, Swisher, Ibanez, Chavez and Andruw Jones mean that almost 100 homers have left the building, Girardi acknowledged that the Yankees must be a different offensive team. The Yankees led the Major Leagues with 245 homers in 2012.
"I believe we're going to score runs," Girardi said. "It's just going to be in a different fashion."
By that, Girardi meant the Yankees would rely more on Brett Gardner, who missed most of last season, and Suzuki to help create some offense with their speed. It won't be easy. Some fans groused that the Yankees hit too many homers. Cashman has already said that those fans will get their wish and will see a time with less power. By the way, hitting homers was never a problem for the Yankees. Every team wants to blast homers. It was the lack of situational hitting that buried the Yankees.
If CC Sabathia, Kuroda and Pettitte can remain healthy and effective, the Yankees will have a stellar 1-2-3 in their rotation. Phil Hughes, who can be a free agent after the season, is a solid fourth starter while Ivan Nova probably has the edge over David Phelps for the fifth slot. The Yankees had a 3.85 earned run average last year, which was fifth-best in the American League. Yes, the Yankees will have a different look on offense. But they would be satisfied with a duplicate performance from their pitching staff.
When pitchers turn around, which player will they see manning center field? Although there has been speculation that the Yankees might flip-flop Gardner, the left fielder, with Curtis Granderson, the center fielder, Girardi hasn't discussed the possibility with either player. Girardi didn't sound like someone who was poised to make that switch.
On the day where Yankee pitchers and catchers reported to camp for the first time, Girardi answered the most questions about a player who is rehabilitating his hip in New York: Alex Rodriguez. A-Rod, Cervelli and other players were mentioned in the documents of Biogenesis, an anti-aging clinic in Miami.
Both Major League Baseball and the Drug Enforcement Agency are investigating Anthony Bosch of Biogenesis for allegedly providing performance enhancing drugs to players. In a statement, Rodriguez said the Biogenesis records, which were first reported by the Miami New Times, are "not legitimate." Girardi, who said he has only spoken to Rodriguez about his rehab, said the Yankees are "used to having distractions."
Lane: Yankees out to defy age | More from Jack Curry
This club is also used to hearing about age, an issue that is prominent again as Derek Jeter and Rivera try to rebound from surgeries. Girardi said he will be relieved when he knows he doesn't need to worry about the comebacks of Jeter and Rivera, but Girardi won't have a chance to experience that relief until later in the spring. Girardi said having aging players is always "a concern," but noted that age has been a topic swirling around the Yankees for the last decade.
"We were old last year," Girardi said, "and we won 95 games."
Now Girardi thinks they can win 95 again. The journey toward that goal has begun. It will be an interesting ride.
Follow Jack Curry on Twitter: @JackCurryYES