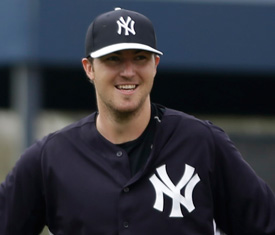 TAMPA– On Monday, Phil Hughes explained how his five-day-a-week workouts at Athletes' Performance in California in the off-season had helped him get a jump start for the 2013 season. On Tuesday, the Yankees announced that Hughes had stiffness in his upper back. On Wednesday, Hughes revealed that he had a bulging disc in his back. He will miss at least two weeks.
In the span of 48 hours, Hughes went from discussing how prepared he was for the season to speculating on whether he will be ready for the start of the season. Hughes's injury occurred when he ran to cover first base during pitcher's fielding practice, routine drills that aren't supposed to result in injuries. Hughes's early injury reinforced the value of depth because every team will have to deal with some injuries.
When I asked General Manager Brian Cashman what excited him about Spring Training last week, he said he wanted the Yankees to stay healthy and get their work done. It might have sounded like a simple response, but it isn't simple to avoid injuries. Sometimes, a pitcher hurts his back while doing something he has done a thousand times. Who would have predicted that?
While Hughes spoke about trying to throw again in six or seven days, Cashman said the pitcher would probably need a "two-week timeout." Cashman said he was hopeful that the pitcher's off-season conditioning would help Hughes from falling behind the other starting pitchers.
In a rotation that features a 40-year old Andy Pettitte, Hiroki Kuroda, 38, and CC Sabathia, 32, Hughes, who is 26, was the first starter to be throttled by an injury this spring. Hughes forced a smile and acknowledged that some teammates had reminded him how the youngest of the first four starters is now the starter who is expected to miss about two weeks.
If Hughes's back issue prevented him from opening the season on time, the Yankees would use Ivan Nova and David Phelps at the back end of the rotation. As of now, Nova and Phelps are competing for the fifth spot. The Yankees would much prefer to have Hughes in the fourth spot, staying healthy and getting his work done.
Follow Jack Curry on Twitter: @JackCurryYES