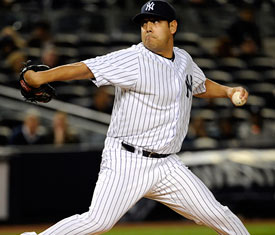 NEW YORK -- Andy Pettitte was so disappointed in the way he contributed to the New York Yankees' unsightly 9-1 loss to the Houston Astros on Monday that he said he felt "sick to my stomach." Catcher Austin Romine spoke in a whisper and a half about needing to have better communication with Pettitte so that the pitcher could establish a rhythm. The clubhouse emptied in a few minutes on a forgettable night for the Yankees.

But, hidden beneath the debris of the worst loss of the season, there was one Yankee that didn't consider it a forgettable night. For Vidal Nuno, the ugly defeat was a memorable night because he made his Major League debut and pitched three scoreless innings. Nuno was surely the only Yankee that saved a baseball from the game.

"Never thought I would be here," said Nuno.

Actually, Nuno was lying. Well, sort of. He did believe he could make it to the big leagues after the Indians drafted him in the 48th round in 2009. But, after the Indians released Nuno two years later, he was poised to stop dreaming and quit baseball. He was 23 years old and wondered if it was time to "go in a different direction and look for another job."

As Nuno drove from Goodyear, Ariz., where the Indians hold Spring Training, to his home in San Diego, he called his parents and told them that he was thinking about quitting. Nuno's parents implored him not to give up his dream. If Nuno found another team that wanted him, his parents promised they would give him whatever financial help he needed.

Buoyed by his family's support, Nuno received the nudge that he needed to continue pitching. He found another roster spot, even if it was for the Washington Wild Things, an independent team in the Frontier League. He signed a contract to earn about $1,500 a month. But Nuno wasn't a Wild Thing for too long. After six games, Nuno's heart sang when the Yankees signed him to a Minor League deal. Since then, Nuno has been one of the best pitchers in the organization. Why? Quite simply, he mastered a changeup and he throws strikes.

"I just keep pounding the strike zone," Nuno said. "No messing around."

While Nuno's fastball barely touches 90 miles per hour, he has a superb changeup, a solid slider and a deceptive delivery. From the first time Nuno started throwing a baseball, he said he always threw from a three-quarter arm angle. Nuno also works quickly, saying, "I get the ball and throw it," and thinks that speedy tempo might keep some hitters off-balance. He impressed the Yankees with 13 strikeouts in 14 2/3 innings this spring, whiffing the likes of Ryan Howard, Chase Utley, Matt Weiters, Nick Markakis, Chris Davis and Manny Machado.

In 2011, Nuno combined to go 7-1 with a 2.04 earned run average with 63 strikeouts in 15 walks in 66 1/3 innings for Class A Staten Island and Class A Charleston. In 2012, he pitched for Class A Tampa, Class AA Trenton and Class AAA Scranton, going 10-6 with a 2.54 ERA with 126 strikeouts and 33 walks in 138 1/3 innings. This season, Nuno was 2-0 with a 1.54 ERA with 26 strikeouts and two walks in 23 1/3 innings at Scranton. Lefties were 3-for-27 off Nuno, who was recalled by the Yankees after Ivan Nova went on the disabled list last Saturday.

"Baseball is fun," Nuno said. "It's not a job. You do the work you need to do so you're good at it, but this is fun for me."

There are millions of stories like Nuno's story, stories of players that came to a crossroads and had to make a decision about their baseball future. Nuno was only 23 when he was released so it would have been careless for him to quit. Plus, Nuno is left-handed. Baseball is always willing to make room for another lefty and another and another. Lefties can have nine lives. Nuno only needed a second life.

Here's how thrilled Nuno is to be with the Yankees: He gushed about how cool it is to patrol the outfield and shag fly balls during batting practice at Yankee Stadium. He sounded like a delirious fan, in a charming way. The guy who notched nine outs in his debut on Monday will be in the outfield during batting practice on Tuesday, too. He will be chasing fly balls, not his dream. He already caught that.
Follow Jack Curry on Twitter: @JackCurryYES