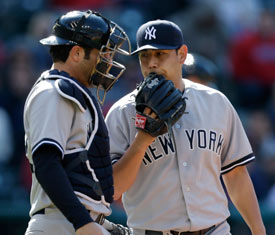 Every Spring Training, every manager in the Major Leagues makes a similar speech. He stands in a clubhouse filled with 63, 73 or maybe even 83 players. He tells them that the goal is to win a title and, get ready for the memorable quote, that the team will need more than 25 players to achieve that goal.
The statement is true. For instance, the 2009 Yankees used 45 players. Every club will endure injuries or have struggling players, so depth is vital during a 162-game season. Still, I always wonder if every player sitting in that clubhouse in February really believes what the managers says and believes that he can have an impact on that upcoming season.
Did the pitcher who was only two years removed from being on an Independent League team believe it? Did the pitcher who had only one forgettable big league start believe it? Did the infielder who had not played one complete season at Triple A believe it? Evidently, they did. In the second game of a doubleheader against the Indians on Monday, the Yankees who fit those descriptions believed.
Vidal Nuno, the refugee from the Washington Wild Things of the Frontier League, pitched five scoreless innings to secure his first career victory in a 7-0 win. Adam Warren, the one-and-done starter from 2012, followed Nuno and tossed four shutout innings for his first career save. Corban Joseph, who was recalled as the 26th man for the day, doubled for his first career hit and scored the Yankees' second run. It was a day of firsts for the Yankees, lots of firsts that helped them split the doubleheader.
When the Yankees assembled for Spring Training in Tampa, they didn't envision that Nuno, Warren and Joseph would be the most instrumental players in one of their victories in mid-May. The Yankees liked all three players, but their team was built around Cano, Jeter and Teixeira and Sabathia, Pettitte and Rivera. If Nuno, Warren and Joseph made it to the big leagues, they were expected to be spare parts. Well, all three made it and they were more than spare parts on Monday.
Of the three players, Nuno was the most impressive. He worked quickly, barely leaving the pitcher's rubber between pitches. He threw strikes, buzzing first-pitch strikes to 17 of 21 batters. He pitched confidently, using a sneaky fastball that averaged around 89 miles per hour, a slider, a curveball and a changeup.
As Nuno tried to squeeze through the fifth, he allowed a pair of two-out singles. Since Nuno had already uncorked 85 pitches, 10 more than manager Joe Girardi said he would throw, he was running out of pitches to secure the final out he needed to possibly get a win. After Asdrubal Cabrera fouled off three straight sliders, Nuno wanted to throw an outside fastball. Catcher Austin Romine wanted another slider. Nuno spoke with Romine and said he would "pinpoint" the fastball on the outside corner. Romine nodded. And then Nuno did it, getting Cabrera to stare at a fastball that touched the black.
It was only one game in May, but it was one game where the Yankees didn't need help from Cano, Sabathia or Rivera. Instead, the help came from Nuno, Warren and Joseph. It was all about the under-the-radar players that heard Girardi's speech about needing more than 25 players and believed it. Really believed it.
Follow Jack Curry on Twitter: @JackCurryYES