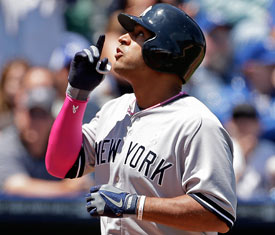 Vernon Wells Jr. is an accomplished sports artist who visits baseball clubhouses to promote his dazzling paintings so he has met Brian Cashman, the Yankees' general manager. When Wells, who is the father of the outfielder with the same name, encountered Cashman at Tampa's International Plaza Mall a few years ago, they had a conversation. One part of it was memorable to Wells.
"I don't know how it's going to happen, but I hope you get my son over there someday," Wells told Cashman. "That's how much respect I have for the Yankee organization."
While Wells' words to Cashman were sincere, he admitted that Cashman might not have even remembered them. As quickly as Wells uttered those words, they disappeared. Or did they? Not in the father's world. Since Wells, a Texas kid, was a lifelong Yankee fan, he longed for his son to play for the Yankees. It couldn't hurt to mention that to Cashman.
"We chatted very briefly," Wells explained. "But I am sure I relayed my desire for Vernon to be a Yankee."
When I asked Cashman about the mall meeting, he said he has had numerous chats with Wells and called him "a great guy." He didn't remember their specific exchange near a few racks of shoes, but, at this point, it was irrelevant to Cashman. The father's wish had become a reality. Vernon Wells III is a Yankee this season. Other than Robinson Cano, he has also been the best player on the Yankees.
"He has been AWESOME," said Cashman, in an e-mail response about Wells III.
The capitals letters were provided by Cashman, meaning the GM wanted to emphasize just how valuable Wells has been to the Yankees. The Yankees spoke to the Angels about Wells in the offseason, a time in which they viewed him as a backup. When Cashman rekindled those discussions last March, he wanted Wells as a starter because Curtis Granderson was sidelined with a fractured hand. Now that Granderson has returned, and Manager Joe Girardi is rotating four outfielders in three spots, Girardi should make sure Wells (.287, 10 homers, 24 runs batted in) is always in the lineup.
After two exasperating seasons in which Wells hit .222 with 36 homers and 95 runs batted in for the Angels, they were willing to trade him to the Yankees for some salary relief. The Angels are actually paying $28 million of the $42 million left on Wells' contract. In trying to live up to that hefty contract, Wells got himself into some bad habits. He tried to pull the ball too much to hit homers and his swing became too long.
"I don't want to say it was a rude awakening," said Wells Jr. "But I used to wonder who was wearing his uniform out there."
Where was the Vernon Wells that was so productive for the Blue Jays? In Spring Training, the father saw that player begin to reappear. After Wells, Jr. watched one of his son's games on TV, he noticed that Vernon's swing was fluid again. It was short, compact and quick. Wells' bat speed had returned.
"I called and told him that was the swing that got him to where he was," Wells Jr. said. "He wasn't trying to hit a homer. He said that he was just trying to make contact. You could see the difference."
From studying old videotape, Wells III realized that he wasn't using the entire field and had become too pull-happy and homer-happy. Once Wells simplified his approach, he became a reliable hitter again. Gary Sheffield used to whip his bat through the strike zone as quickly and viciously as any hitter I ever saw. There have been a times where Wells has reminded me of Sheffield, his bat barreling through the zone and making solid contact.
"I told him he still had a plenty left in the tank," said Wells Jr., as his son struggled for the last two years. "His approach was getting in the way. I knew it was still in there."
When Wells Jr. called himself Vernon's "batting coach since birth," it had a lot of significance. Not only does the 58-year old father study the 34-year old son's swing and offer insight, he also still plays himself. Every October, Wells competes in senior tournaments in Arizona. He is a hired hitter of sorts, shifting from roster to roster on teams that range from Over-25-year olds to Over 55-year olds. In one tournament, he hit behind Kevin Mitchell, the former National League Most Valuable Player. Wells Jr. was named the MVP of the tournament.
Because Wells is self-employed and can travel with his art materials, that allows him to stay in Arizona for the month and play baseball every day. Wells, whose website iswww.VWellsart.com, has been painting professionally for 30 years and calls himself "the most commissioned sports artist ever." Check out his website. Every painting you click on is more amazing than the previous one.
There is one painting that Wells hasn't done yet, but that he's planning to do after the season. It's a painting that he has envisioned for years, a painting that he hinted at when he spoke to Cashman. It's a painting of his son wearing a Yankee uniform, finally wearing a Yankee uniform.
"When he was a high school senior, I was hoping he'd go straight to the Yankees," Wells said. "Now he's there. There's just something different about the pinstripes."