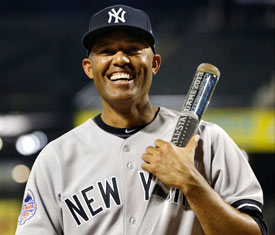 The memorable night was over, but Mariano Rivera wanted to revisit it. He was still wearing his Yankee uniform, still gushing about a night like no other. Rivera wanted to go back on the field, wanted to climb back on the mound and wanted to feel what it was like to be universally adored. Again.
There has never been another pitcher with the distinct talents of Rivera and there aren't enough people with the gentlemanly traits of Rivera. As the 43-year old Rivera leaned against a cinderblock wall near the visiting clubhouse at CitiField, he grew emotional while discussing how both teams delayed the All-Star Game to stand and cheer for him.
"They almost made me cry," Rivera said. "Almost. It was close. It has been tremendous. I was telling them I hope this night doesn't end."
If Rivera kept talking about the night, the night where he came in to pitch a scoreless eighth inning for the American League, maybe he thought it wouldn't end. So, following a press conference, Rivera kept talking. He recalled how he trotted in from the bullpen, got to his usual place of work on the mound and then realized he was alone on a baseball island.
In one of the coolest, classiest displays I've ever seen, the other All-Stars treated Rivera like the ultimate All-Star. As Rivera pitches in his final season, his peers reminded the cool, classy closer about how much he has meant to baseball. He removed his cap and waved it to both dugouts. His eyes were moist.
"I got ready to throw and I see, because my face was facing the National League team, and they're all in front of the dugout cheering and applauding me," Rivera said. "Then I looked to my right and I see my teammates and they are doing it also. I'm like, 'Oh, my God.' It's special."
When Rivera recounted that amazing display from the A.L.'s 3-0 victory, he almost began crying again. He shook his head. He collected himself. So I asked him how meaningful it was to have the best players in baseball treat him with such reverence in his final All-Star Game.
"The best players in baseball, all over the world," Rivera repeated. "The best players. I will never forget that moment because all I have done and all I want to do is represent the New York Yankees with dignity and pride and represent baseball and do it well. And to see that from both teams, the cream of the cream, that was priceless. There was no price for that. I was there alone, soaking it in. And I did."
Rivera had a baseball from the game stuffed in his back pocket. He said his family would decide who would get the first opportunity to drive the blue sports car he received for being named the Most Valuable Player. He took out the baseball and held it as if he was holding a cutter. He seemed ready to throw another pitch. He didn't want the memory of this night to end.
"I will keep it," Rivera said, "until the day I die."